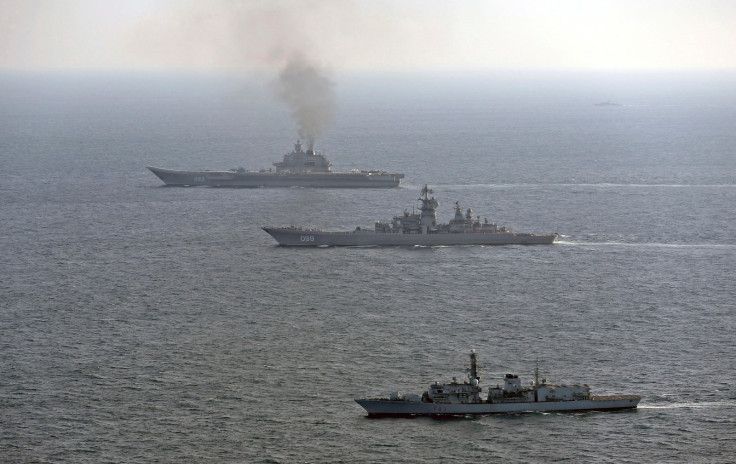 Moscow has responded robustly after UK Defence Secretary Michael Fallon described Russian Navy ship Admiral Kuznetsov as a "ship of shame" after it was escorted through the English Channel this week.
As the ship returning from the Syrian conflict was escorted by Typhoon jets and support vessels through British waters to the North Sea on Wednesday (25 January 2017), Fallon said: "We will keep a close eye on the Admiral Kuznetsov as it skulks back to Russia, a ship of shame whose mission has only extended the suffering of the Syrian people."
"We are man-marking these vessels every step of the way around the UK as part of our steadfast commitment to keep Britain safe," he added.
Not to be outdone, the Russian Defence Ministry Spokesperson Major-General Igor Konashenkov pointed to reports that there had been four Trident missile test failures in 2015.
"First of all, Russian warships don't need this kind of pointless escort. We know the route already. Secondly, we'd advise Mr Fallon to pay a bit more attention to the British fleet, and according to reports in the British press, he has every reason to do so," Konashenkov said.
"The purpose of these statements is to divert the attention of the British taxpayers from the real state of the Royal Navy of Great Britain," he added, according to the news agency Interfax.
It emerged this week that the Royal Navy had spent £1.4m ($1.76m, €1.6m) in an operation last October to monitor the same Russian fleet heading to Syria. Figures obtained by the Portsmouth News revealed the cost of deploying the Type 45 destroyer the HMS Duncan and the Type 23 frigate the HMS Richmond.
The Russian vessels are heading to the Murmansk region where Russia's northern fleet is based.