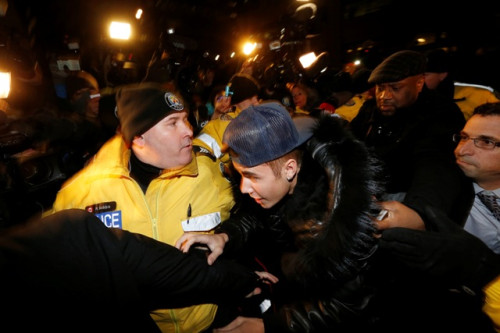 Following an assault charge on a limousine driver, Justin Bieber turned himself in to the Toronto police marking his second arrest in a week.
According to CNN, the alleged incident took place on 30 December after the limo driver picked up a group of six people outside a Toronto nightclub just before 3am, according to a police statement.
The Toronto police said in late December that they were "looking into allegations that a member of Bieber's entourage assaulted a limo driver who was ferrying the Canadian pop star and several others." Police said at the time it was unclear whether Bieber was involved, reports AP.
Bieber arrived at a Toronto police station in a black SUV wearing a winter coat and a ball cap backwards. Several police officers had to struggle and shove their way through a massive crowd comprising photographers, reporters and screaming fans.
Bieber is set to appear in a Toronto court on 10 March, police said.
Bieber's representative sent a written statement to CNN as the singer was inside the police station.
"The Toronto Police Service requested that Justin Bieber appear in Toronto today to face an allegation of assault relating to an incident on December 29, 2013," the statement said.
"We anticipate that this matter will be treated as a summary offence, the equivalent of a misdemeanour in the United States."
"Our position is that Mr Bieber is innocent," the representative added. "As the matter is now before the court, it would be inappropriate to address the specifics of either the allegation or of our defence at this time."
According to Enstars,even though the singer still enjoys the loyalty of his fans, the majority of Americans seem to be thoroughly sick of him and have moved to have the Boyfriend singer deported to Canada from the US.
A petition featured on the We the People section of the official White House website reads:
"We petition the Obama Administration to Deport Justin Bieber and revoke his green card. We the people of the United States feel that we are being wrongly represented in the world of pop culture.
"We would like to see the dangerous, reckless, destructive, and drug abusing, Justin Bieber deported and his green card revoked. He is not only threatening the safety of our people, he is also a terrible influence on our nation's youth. We the people would like to remove Justin Bieber from our society."
Bieber's drag racing arrest, and his earlier charge of driving under the influence (DUI), are apparently considered misdemeanours and therefore not serious enough to warrant deportation.
Bieber is still under investigation and could face felony charges for an egg attack on a neighbour's house.