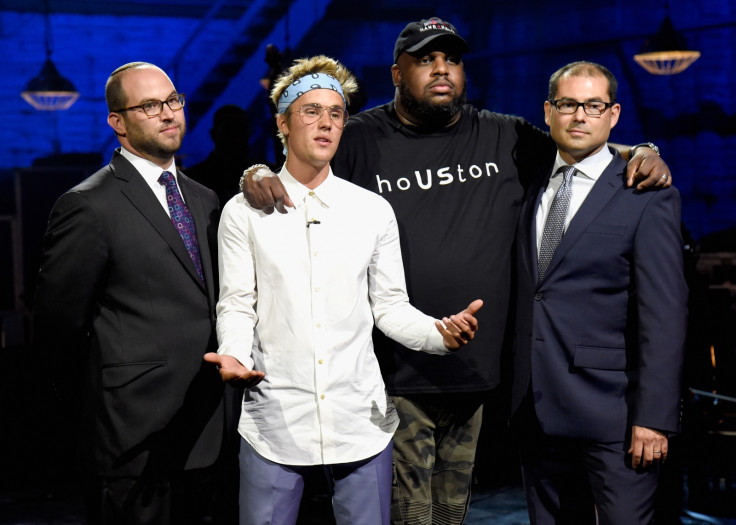 Last night (12 September) the Hand In Hand: A Benefit for Hurricane Relief charity telethon brought together a bounty of A-list celebrities to help raise money for victims of Hurricanes Harvey and Irma, which wreaked havoc across Texas, Florida and the Caribbean.
Beyonce, Justin Bieber, Leonardo DiCaprio, George Clooney, Cher, Julia Roberts, Tom Hanks and Dwayne 'The Rock' Johnson were among those who helped raise $14.5m (£11m) during the hour-long event.
Want more names? Oprah Winfrey, Barbra Streisand, Al Pacino, Robert DeNiro, Reese Witherspoon, Jamie Foxx, Sean 'Diddy' Combs, Adam Sandler and Matthew McConaughey also took part.
Stevie Wonder opened the show, singing Bill Withers' Lean on Me backed by a gospel choir, before being joined by Usher and Blake Shelton for a version of Ben E King's Stand By Me.
The legendary artist didn't hold back when he spoke before his performances, calling anyone who doesn't believe in climate change "blind or unintelligent". Who could he possibly be referring to?
Pop star Justin Bieber led a multi-faith prayer for victims, alongside Muslim scholar Jihad Turk, Rabbi Ari Lukas and Pastor John Gray. You can watch Bieber's short speech and prayer below.
The night included numerous appeals from celebrity pairings. Django Unchained co-stars Jamie Foxx and DiCaprio came together for one, with Foxx saying: "When tough times hit, this is who we are. We're compassionate. We're unstoppable when we unite, when we join together hand-in-hand."
Oprah and Cher, Witherspoon and Nicole Kidman, Tom Hanks and Rita Wilson, George Clooney and Julia Roberts, and Robert DeNiro and Jon Stewart were among the other pairings paying tribute and telling stories of those affected by the disaster.
Will Smith, The Rock and Beyonce were among those who sent in video messages, with the Lemonade singer saying: "During the time when it's impossible to watch the news without seeing violence, or racism in this country, just when you think it couldn't possibly get worse, natural disasters take precious life, do massive damage and forever change lives.
"Natural disasters don't discriminate. They don't care if you're an immigrant, black or white, Hispanic or Asian, Jewish or Muslim, wealthy or poor. It doesn't matter if you're from Third Ward or River Oaks. We're all in this together."
The Rock, meanwhile, said: "There are no strangers in the aftermath of a hurricane. There's no political parties, no agendas, none of the things that can often survive us. It's all about survival and coming together as one."
All those in attendance at the event, which took place across New York, Los Angeles and Nashville, also manned the phones, taking donations from millions watching across the United States.
Wonder's performance was followed up by other musical performances from Demi Lovato, Dave Matthews and Despacito singer Luis Fonsi, who sang Leonard Cohen's Hallelujah with Tori Kelly.
Scooter Braun, who helped organise the event, said afterwards of the celebs in attendance: "No one left. Everyone just kept answering phones and answering phones and answering phones. People want to give. Like, people want to help. And you don't have to be a celebrity to do it."
Those in North America can donate by calling 1 (800) 258-6000, or by texting GIVE to 80077 to donate $25. Those outside the US and Canada can donate online here.