As Kabila deadline looms, tensions remain high in DRC amid a heavy military and police presence
'The regime is arresting and kidnapping people and leaders from the opposition,' one opponent said.
The Democratic Republic of Congo (DRC) is on a political knife-edge as President Joseph Kabila inches towards the midnight expiry of what should be his second and last term in office. There is a "heavy military and police presence around the country", Human Rights Watch (HRW) has confirmed to IBTimes UK.
Hundreds of people have gathered in Kinshasa to protest against Kabila's perceived attempts to remain in power beyond the legal limit set by the constitution.
Police spokesman Mwana Mputu said law enforcement officials "will prevent the exercise of any unauthorised political public demonstration throughout the national territory". Any group of 10 people or more who gather will be dispersed.
A top adviser to the president told IBTimes UK: "We will do the best we can to ensure stability and peace because we are the government. We can't let people get on the streets and start destabilising the country."
Michael Sakombi, Special Deputy Commissioner for the Economy, Finance and Development, added that the government is "monitoring" the situation along with Monusco, the world's largest peacekeeping force.
Over the weekend the main opposition coalition, known as Rassemblement, said it is not planning a march against Kabila.
The government has also ordered most telecommunications companies to shut down social networking sites, raising concerns over the possibility of violence in a country that has never experienced a peaceful transition of power. The blackout "will allow Mr Kabila's security forces to kill, harass, kidnap and imprison pro-democracy protesters and opposition figures with impunity", said Vava Tampa, a human rights campaigner and founder of Save the Congo.
What's happening on the ground?
Providing a snapshot of what is taking place on the ground, opposition leader and Rassemblement member Martin Fayulu told IBTimes UK: "Since last Thursday [15 December] there has been an excessive and visible deployment of a military dispositive all over the country and particularly in Kinshasa, which de facto puts the country in a state of war.
"On top of that, there is a complete communication blackout especially on social media. Facebook, WhatsApp, YouTube... are particularly reduced to a point where we can't view or send photos, videos and so forth.
"Those social media [platforms] have become inconvenient witnesses in a repressive environment put in place by the Kabila regime. Today the people of the DRC have decided all over the country that it is a ghost country.
"In response the regime is arresting and kidnapping people and leaders from the opposition. For example, 11 people have been arrested in North Kivu and amongst them three from my party, ECiDé, three from UDPS [a major political party] and three others from MRS [Social Movement for Renewal party] of Pierre Lumbi.
"There is an obvious tension in the country and we are holding our breath for tonight at midnight when Mr Kabila's second and last constitutional term expires and his power loses legality and legitimacy."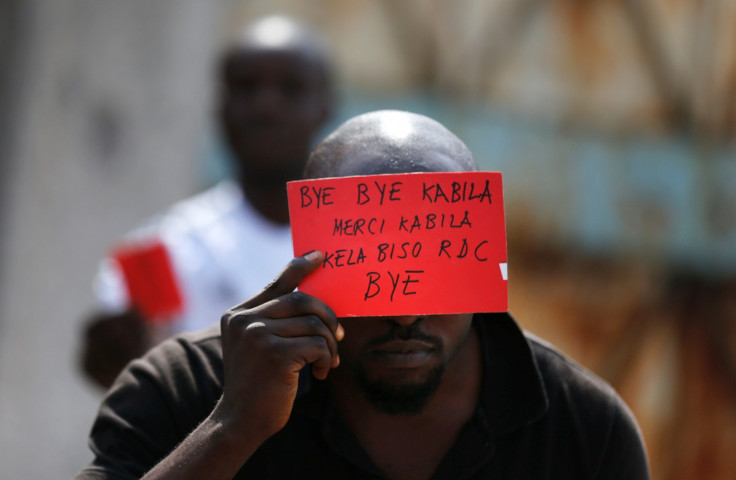 Access to Kinshasa University was blocked by security forces who confronted people waving red cards telling Kabila to leave when his mandate expires, Reuters noted. The situation outside the university was described as "extremely tense". For some it was business as usual with buses operating and large markets open, but there was a noticeable reduction in activity, according to reports.
While there is a strong military and police presence in the powerful southern city of Lubumbashi, reports suggest that the situation is relatively calm.
In the country's restive eastern city of Goma, HRW has received credible reports of 41 arrests today (19 December). Opposition parties had planned demonstrations this morning, but they did not go ahead, according to Radio Okapi, a UN-funded radio network. It reported that a dozen representatives from opposition parties, including a provincial MP, were arrested as they met at the MSR's offices in Goma.
An elementary school teacher based in Bukavu, eastern DRC, said: "We are concerned because anything might happen any time. We are worried about our children and the future.
The teacher, who spoke on condition of anonymity, added: "President Joseph Kabila is just one person, why can't he leave power and stop jeopardising the destiny and future of 80 million people? He should leave power peacefully."
The UK's Foreign and Commonwealth Office has advised against all travel to the country. The British Embassy has withdrawn non-essential staff and will provide only limited consular support.
The US Embassy in Kinshasa has informed its citizens of the potential for large-scale demonstrations and civil unrest on/around 19 December.
© Copyright IBTimes 2023. All rights reserved.