2016 should have been a historic turning point for the Democratic Republic of Congo (DRC). Instead, the African nation is "unnecessarily flirting with disaster", a United States envoy to the Great Lakes region in Africa, has said.
Congo's President Joseph Kabila is due to stand down on 19 December, but he has been accused of political manoeuvring to ensure he can remain in power indefinitely, and there are growing fears Kabila's push to keep power will spark major violence.
Ambassador Johnnie Carson, senior adviser at the US Institute of Peace, described the current political tensions as "potentially explosive" because "efforts to work out an acceptable transition and election calendar have failed."
Last week, the DRC saw the first fully inclusive negotiations begin, under the aegis of Pope Francis' Vatican efforts, supported by Angola's President Dos Santos, the US and its allies. On Friday (16 December), however, those involved in the high-level talks said the negotiations had reached a stalemate. The opposition claims that the talks are at a standstill because Kabila is refusing to bulge on key issues, including a consensus on a new electoral timetable.
With three days to go until the turning point in DRC's future, Tom Perriello, who is completing his 18 months tenure as the US Special Envoy for the Great Lakes region in Africa, warned the current national dialogue hosted by the DRC's powerful Catholic church (CENCO), may have come too late.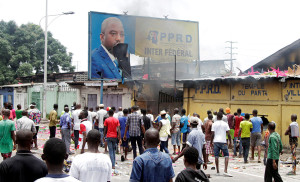 "The CENCO led-talks offer the best chance to reach a consensus roadmap for this country to avert mass unrest in the coming weeks and months and to secure the DRC the brighter and democratic future that its people deserve," Perriello said at the US Institute of Peace. "Perhaps this process has come too late, but that is no argument for why we should not give it its best chance to succeed even in the very hours ahead."
DRC crisis is 'shockingly simple, entirely avoidable'
Perriello said it is the US' priority to support the CENCO process, and all efforts to produce a consensus path towards alternance (political changeover) and to deter government repression and violence by all sides.
The special envoy described the escalating crisis as "shockingly simple, entirely avoidable and even at this late stage, almost instantly solvable by a few actions from one individual, President Joseph Kabila".
"He is the most powerful man in the DRC and he is the driving force behind the nation's historic peace agreement that ended the civil war and its current Constitution. He's overseen the growth of impressive levels of freedom and diversity in the country. But over the past two years, and advancement of the high-risk strategy of 'glissement', he has overseen a 300% increase in human rights abuses and repressive acts."
He added: "This year should have been a historic turning point for the DRC instead of an entirely unnecessary flirtation with disaster".