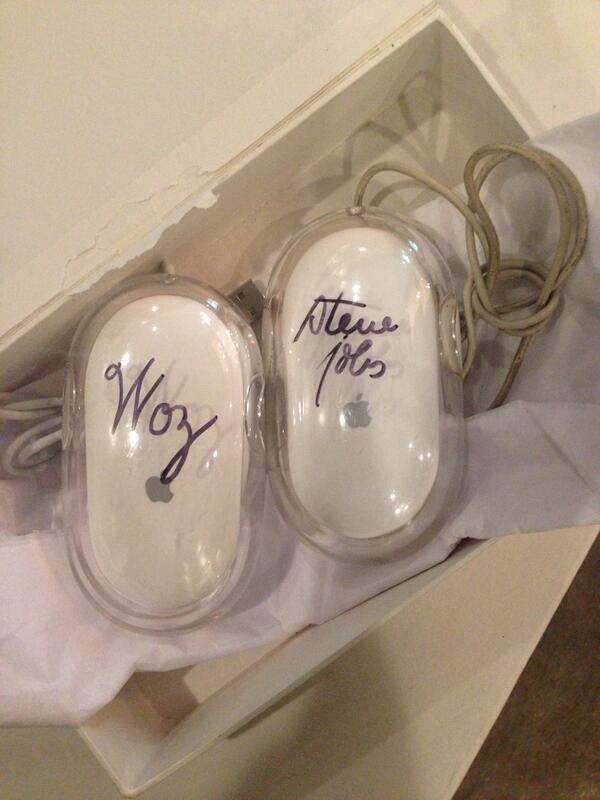 Kanye West has tweeted a photograph of his first Father's Day gift from reality star Kim Kardashian.
"One of the other gifts my girl gave me for Father's Day," he tweeted . It was a pair of mice autographed by Apple founders Steve Jobs and Steve Wozniak. West celebrated his first Father's Day just 24 hours after the birth of his daughter North West, who was born on June 15.
Steve Wozinak was one of the first few to have had a look at North West right after she was born. West, 36, also compared himself to the late Steve Jobs in an interview.
"Think what Kanye West is going to mean is something similar to what Steve Jobs means. I am undoubtedly, you know, Steve of Internet, downtown, fashion, culture. Period. By a long jump. I honestly feel that because Steve has passed, you know, it's like when Biggie passed and Jay-Z was allowed to become Jay-Z," he stated.
While the whole world is waiting with bated breath to check out the first pictures of the new born, a source close to the doting dad, West, stated that the couple has not allowed cameras to film Nori (the baby's nickname), but that they are shooting home videos themselves.
"The most North has been filmed is on their family's iPhones. They made a little family album with some videos when Kim was in the hospital. How sweet," the source stated to Hollywoodlife.
"Kim and Kanye are doing their best to keep the spotlight off their newborn, and the amateur movies they're making are just for them. That's just for the family, so they can remember that moment," the source added.
Another source stated that West loved singing to his baby girl.
"Most of the time, he doesn't want to talk to anybody because he's with North and Kim. One time he forgot to hang up the phone when we were done talking, and I could hear him singing to the baby 'I love you... yes, I do.' It was one of those many father-daughter moments they will have together," a source close to the family stated.