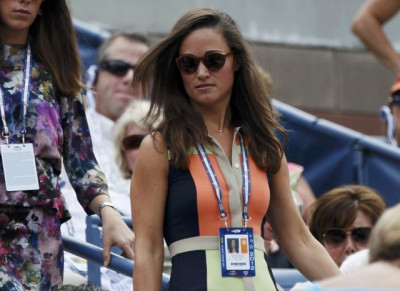 Pippa Middleton, who shot to worldwide fame as bridesmaid to elder sister Kate Middleton in April 2011, is an ardent tennis fan and a regular attendee at a number of tournaments. However, just as with her elder sister, the Duchess of Cambridge, her style statements over the years have seen a gradual evolution... from sporty to elegant and then to the chic.
Pippa's most recent appearance was at the 2012 US Open in New York. The younger sister of Catherine, the Duchess of Cambridge, wore a figure-hugging colour block dress - reminiscent of the white body-hugging Sarah Burton outfit that gave the 28 year old her style identity on the day of the wedding of Kate Middleton and Prince William.
The younger sister looked very chic in the knee-length dress, with a front-slit, and accessories including a Kate Spade bag, tan wedges and sunglasses.
Pippa's Tennis Fashion
Unlike Kate Middleton, who often recycles dresses, Pippa tends to be a rather more full-fledged fashion diva and has yet to be caught wearing the same outfit twice.
She was seen wearing a skirt dress and white jacket in May last year, at a women's singles fourth round French Open match between Russian Maria Sharapova and Poland's Agnieszka Radwanska. She was accompanied by an unidentified man, whose presence generated much buzz about her romantic life.
Pippa also turned heads at last June's Queen's Club Championships, when she wore a denim jacket over a short white dress. She was there to see the match between Andy Murray of Britain and Janko Tipsarevic of Serbia.
Pippa's appearance at Wimbledon 2011 also won her accolades; she wore a brown-coloured Modalu handbag and a pair of brown colored platform shoes. This was during the quarter final between Jo-Wilfried Tsonga of France and Roger Federer of Switzerland.
She repeated the stylish SW19 turnouts this year. She watched from the Royal Box and wore a navy skirt and a buttoned-up navy and white macrame jacket, by Irish designer Orla Kiely, to the women's singles game between American Serena Williams and Hungarian Melinda Czink... the effect was both sporty and chic.
Click Start to see a slideshow of photographs showing Pippa Middleton's fashion statements at tennis tournaments through the year