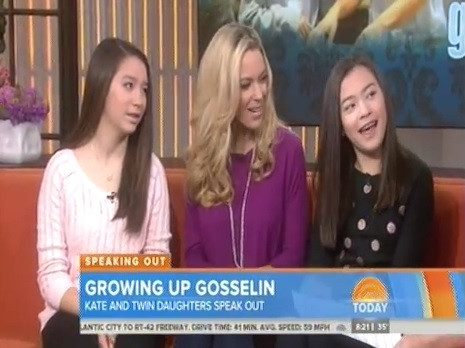 Kate Gosselin had intended to show the world how great her children had turned out despite growing up on camera when she appeared on the Today show.
But the reality star's first TV appearance of 2014 took a turn for the worst when her kids refused to keep up the pretence.
When Gosselin took along 13-year-old twins Cara and Mady to clarify what she called "inaccuracies", it was a car crash waiting to happen.
Rather than recite the script that had been fed to them, the teenagers barely spoke when questioned by the host and could be seen giving each other knowing looks.
Gosselin, who found fame with her brood on Jon & Kate Plus Eight, could be seen growing increasingly frustrated as she urged the girls to confirm that they are normal teenage girls who have not been damaged by having their lives documented on the TLC show.
At one point she demands: "It's your chance... spit it out."
Viewers soon reacted to the painfully awkward moment online.
One wrote: "That has to be the most awkward interview I have ever seen. i use to really love kate, and loathe jon, but my opinion has changed 180."
Gosselin and her ex-husband have been embroiled in a series of lawsuits following their split in 2009.
In August 2013, she filed a lawsuit against him claiming that he stole her computer hard drive and hacked into her phone to obtain incriminating material for his tell-all book.
"Jon violated a federal anti-hacking statute in order to publish salacious, scandalous and defamatory information about Kate," her lawyer A. Jordan Rushie said at the time.
Gosselin retains primary custody of 12-year-old daughters Mady and Cara, along with nine-year-old sextuplets Alexis, Collin, Joel, Hannah, Leah and Aaden.