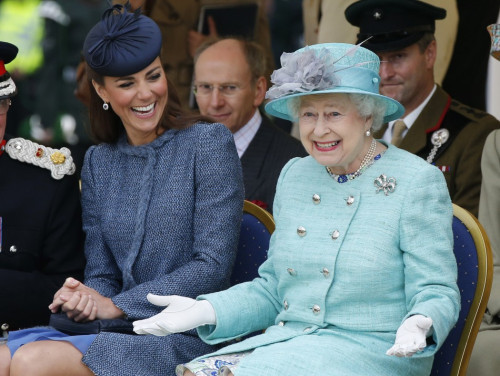 Kate Middleton will soon play host to some of the world's most famous faces at a special royal reception.
The Duchess of Cambridge will join the Queen at Buckingham Palace on 17 February to honour the dramatic arts, Hello magazine reported.
The royal engagement is being held in honour of The Royal Academy of Dramatic Arts (Rada), of which the Queen is patron.
An estimated 250 guests will attend the reception, including actors, directors, producers, playwrights and teachers.
Her Majesty the Queen and the Duchess will welcome veteran English actress Helen Mirren, film and theatre actor Benedict Cumberbatch, Australian actress Cate Blanchett, Scottish actor David Tennant, broadcaster Sir David Attenborough and Julian Fellowes, the Downton Abbey creator.
The Queen and Catherine, along with Prince Philip, the Duke of Edinburgh, and other members of the royal family, will greet other guests at a star-studded reception that begins at 6pm.
The magazine reports that the guests will also be treated to a series of performances in the Palace's ballroom.
This will be Kate's first engagement with Rada. The reception will be held a day after a Bafta awards ceremony at London's Royal Opera House, where Prince William is scheduled to present an award.
As president of the film academy, the Duke of Cambridge, who is completing a 10-week course in agricultural management at the University of Cambridge, will present a Fellowship Award to Dame Helen Mirren, honouring her contribution to the world of film.
One of Mirren's most notable performances, of course, was as William's grandmother, in the 2006 film The Queen.
Watch Mirren as Queen Elizabeth II in the official trailer for the film, below: