Ever wanted to work for the British Royal Family? Now could be your chance. The UK's most famous family are hiring and they're using LinkedIn to find a worthy candidate.
The Duke and Duchess of Cambridge along with Prince Harry are on the hunt for a new senior communications officer for their Royal Foundation – meaning the potential worker could be getting up close and personal with the senior royal members on a regular basis.
The job advertisement was posted on LinkedIn 15 days ago and Fortune reported earlier this week that nearly 1,000 people had already applied. It has had almost 50 applicants in the past day alone – and the position has currently attracted 15,227 views on the employment-oriented social networking site.
The job description begins with: "We require a Senior Communications Officer to support the work of TRH The Duke and Duchess of Cambridge and HRH Prince Henry of Wales, with a particular focus on the activity of their Royal Foundation."
It adds: "This role will work both reactively and proactively to manage the daily news flow to the media, ensuring items are accurately and positively reported and received by audiences via traditional, digital and social media."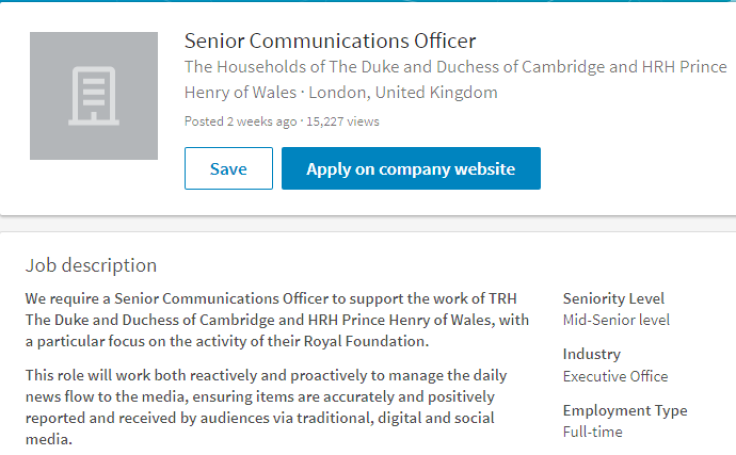 The job is categorised in the public relations, marketing and writing/editing sectors and is full-time, based in London.
The chosen candidate will be expected to organise and give press briefings and responding to out-of-hours media enquiries. They will also be required to conduct research for special projects and contribute to strategic discussions.
The young royals have grown in popularity even more so since the duke and duchess' wedding in May 2011 and the birth of their two adorable children, Prince George, three, and Princess Charlotte, two.
Prince Harry has always been one of the most popular royals thanks to his party boy image and humanitarian work, along with his highly-publicised romance with Suits actress Meghan Markle – so it's no wonder that the job has garnered so much interest.