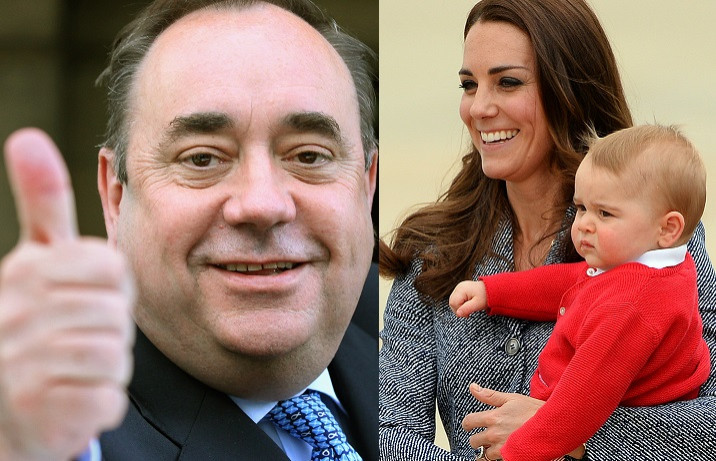 Alex Salmond has congratulated the Duke and Duchess of Cambridge on the announcement of their second child by calling them by their Scottish titles.
The leader of the SNP couldn't resist referring to the couple as the Earl and Countess of Strathearn, one day after the "Yes" vote in the Scottish referendum took a lead for the very first time.
The news Kate Middleton is pregnant for the second time was confirmed by the Palace, who said the Queen and both families are "delighted with the news".
Salmond was one several high profile names to congratulate the couple of the news of their second child.
Prime Minister David Cameron said he is "delighted" they're expecting another baby and Labour leader Ed Miliband described the news as "fantastic".
Cornwall House said that the Duchess of Cambridge has been suffering from Hyperemesis Gravidarum – an acute form of morning sickness – as a result of her pregnancy and will no longer accompany her husband on their planned trip to Oxford today.
She is currently being treated at Kensington Palace, with a spokesperson adding all future engagements involving the Duchess will be decided on a "case by case" basis.
The illness is the same she suffered from while she was pregnant with Prince George, who she gave birth to at St Mary's Hospital, London on 22 July 2013.
The news – and Salmond's reaction – arrived after a YouGov poll for the Sunday Times revealed the pro-independence campaign took a narrow lead in the referendum for the first time.
The group managed to overturn a 22-point deficit behind Alistair Darling-led "Better Together" campaign in just one month.