The Duchess of Cambridge may be preened to perfection and appear to have control of any type of situation she is put under, but yesterday proved she is a mere mortal just like the rest of us when admitting to how tough parenting can be.
While conducting her first royal engagement of the year on Wednesday (11 January), whereby she visited the Anna Freud Centre's Early Year's Parenting Unit in London, Kate acknowledged the difficulties of motherhood while chatting to other parents.
Despite having a full-time live-in nanny and a mother, Carole Middleton, who offers plenty of help, the duchess confessed that bringing up children is no walk in the park.
On being asked if she was ready to spend the morning with a group of children under five at a centre that helps parents with personality disorders, she said: "I did just leave a room of six under threes."
Whether Prince George and Princess Charlotte had playmates over was not explained, but Kate went on to express her empathy with parents who have struggled with family life and personal issues.

The duchess looked immaculate for the visit in Holloway – wearing a £1,650 blue coat dress by Eponine – as she aimed to learn more about the centre's work with families that have children under the age of five at risk of being taken into care.
Upon hearing stories from one group of mothers going through the treatment programme to help them deal with struggles like family history of abuse and addiction, the duchess commented: "Parenting is tough."
"And with the history and all the things and the experiences you've all witnessed, to do that on top of your own anxieties, and the lack of support you also received as mothers... I find it extraordinary how you've managed, actually. So really well done," she added.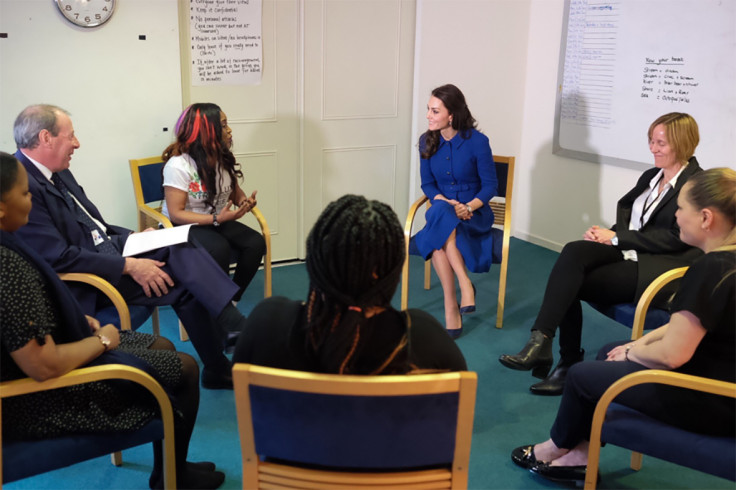 Later that day, Kate met parents participating in a "theraplay" session that focuses on the child-parent relationship.
The EYPU – which opened in April 2011, offers families in need an assessment and treatment programme regarding personality disorders. The treatment seeks to address not just adult problems, but also children's development needs, as well as working on the bond and dynamic between parent and child. The overall aim of the centre is to keep families together, helping parents become more aware of and responsive to their children's needs.
In the afternoon, Kate paid a visit to the Child Bereavement UK Centre in Stratford, east London, to mark its anniversary, with husband Prince William, who is royal patron of the centre.