Kate Middleton has revealed that Prince George could be a budding tennis champion someday. The Duchess of Cambridge was at the Wimbledon for ladies' semi-finals day today (7 July), where she met some of the star players of the tournament and chatted with ball boys and girls.
The mother-of-two told former British number one Greg Rusedski that two-year-old George has his own racket and is already showing a keen interest in the sport.
"She talked about George, her little boy, playing tennis," he said adding: "He's got a racket and he enjoys playing tennis, and obviously she plays with William. So they obviously enjoy the sport very much."
Offering advice on Prince George's prospects as a future tennis champion, Rusedski said: "As long as he is enjoying it at this age that's all that matters, really. It's too young to know what's going to happen for the future, but it's one of those sports for life."
Meanwhile, Kate left an impression on the sports star. "She was very friendly. I think everyone was delighted to meet her today at Wimbledon and she's obviously a great ambassador for the country," he said.
The Duchess also had a message for Scottish Wimbledon semi-finalist Andy Murray, Mirror Online reports. Apologising for not watching any of his matches so far, coach Ivan Lendl revealed: "She said to wish him the best."
While the 34-year-old Duchess, who is patron of the All England Lawn Club, is a keen tennis enthusiast herself, revealed that it's frustrating" to play against left-handed Prince William.
Kate, who was wearing a canary yellow, wool crepe dress by Roksanda Ilincic also chatted with some of the ball boys and ball girls who excitedly shared their Wimbledon experience with the Duchess. Portuguese ball boy Tomas Morais, 14, from Putney, said Kate told him she thought they were all doing a "great job".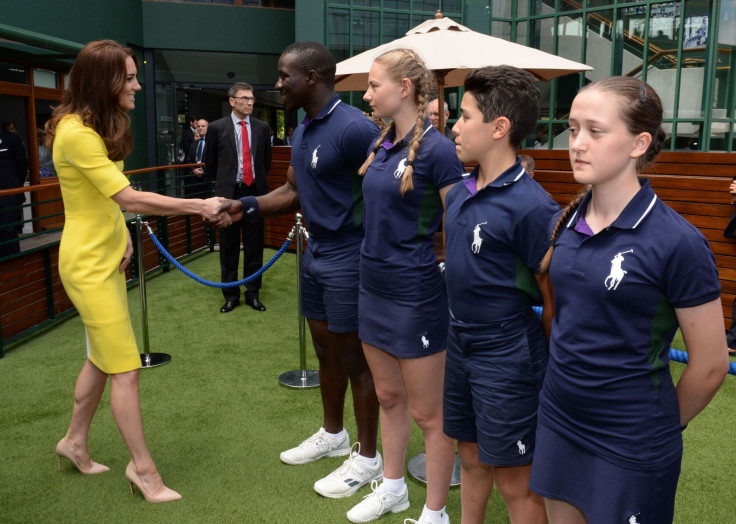 The Duchess later watched Serena Williams in action, as she knocked Russian Elena Vesnina out of the tournament in two sets in the women's semi finals, before her sister Venus took on Angelique Kerber in the other ladies' singles semi-final. Speaking to the Williams sisters' mother Oracene Price ,Kate said she is looking forward to the Women's finals. "I'm looking forward to it, good luck both of them, very good luck."
Kate was later caught on camera as Serena Williams flouted royal protocol to video the Duchess on Snapchat along with Sophie the Countess of Wessex following her victory over Vesnina in.
Taken off her guard, the Duchess smiled for the camera as Williams takes a video saying: "OK, so I'm in the 'In Crowd' now, I'm with royalty". Serena Williams will face her Australian Open nemesis Angelique Kerber of Germany in Saturday's final.