Prince George was allowed to stay up past his bedtime to meet President Obama and First Lady Michelle Obama. The two-year-old dressed down for the momentous occasion, greeting the couple while wearing his pyjamas and dressing gown.
The Obamas were visiting Kensington Palace where they joined the Duke and Duchess of Cambridge and Prince Harry for a private dinner on Friday (22 April) as part of their four-day UK visit.
Dressed in a white dressing gown, navy slippers and blue gingham pyjamas, Prince George politely shook the President's hand. A spokesman for the palace explained that George had stayed up for 15 minutes after his usual bedtime in order to personally thank the Obamas for a rocking horse they had given to him as a gift when he was born.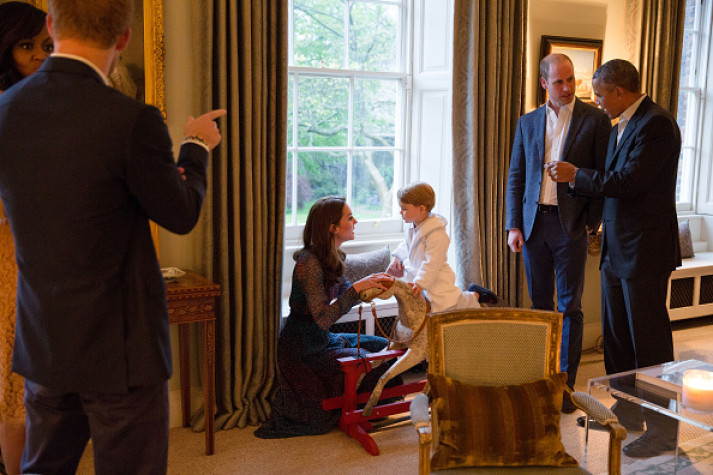 George even jumped on to the rocking horse for a demonstration of his riding skills, as the Obamas looked on in delight.
The Duke and Duchess of Cambridge and Prince Harry were also dressed casually - though not quite as casually as George - as they greeted the Obamas in the courtyard shortly before 7.30pm.
Stepping out of the presidential black Cadillac the President called out to the young royals. "Oh there you are – hello," he said. As the Obamas took cover from the rain, huddling under a single black umbrella, William promptly apologised for the downpour. "Sorry about the weather," he joked.
The group chatted animatedly before posing for photos in front of the waiting media. The President, his wife and the royals then made their way inside the palace to continue their conversation in the drawing room before enjoying a private dinner.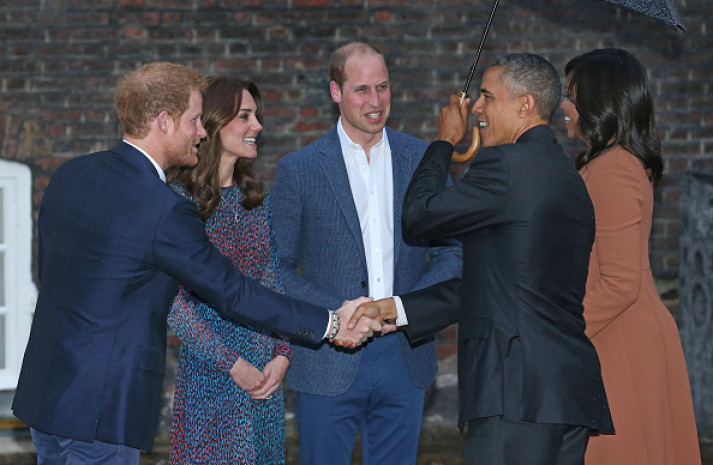 Kensington Palace posted a serious of photographs document the meeting between Prince George with the US President. The hashtag #PrinceGeorge was quickly trending on social media as fans of the royal toddler gushed over the adorable images, capturing the moment as he shook hands with the President while in his jim-jams.
Commentators dubbed it " the cutest moment in history." It's not the first time the heir to the throne has stolen everyone's thunder with his off-the-chart cuteness. The cheeky toddler took centre stage as he posed for a new royal stamp to celebrate the Queen's milestone 90th birthday.
Prince George was photographed standing on a set of foam blocks and holding onto Prince William's hand as he beamed broadly for the camera.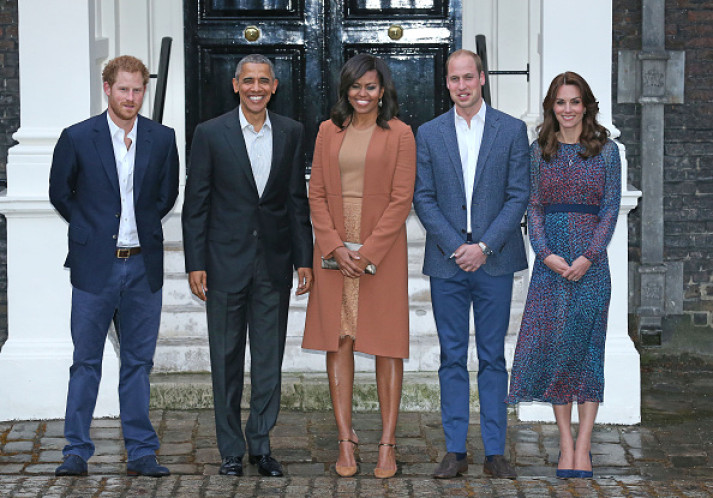 Earlier President Obama attended a press conference with British PM David Cameron as the president urged British voters to stay in the EU.