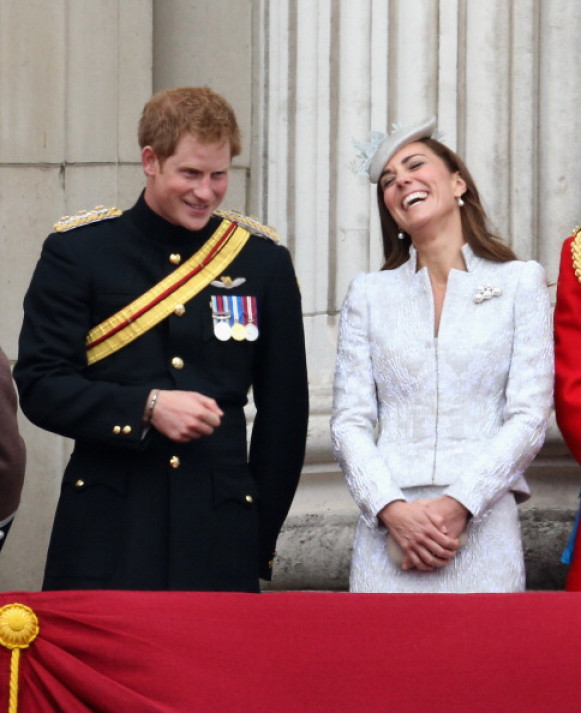 Prince Harry was keeping the royal family entertained during the Trooping the Colour parade, marking the official celebrations for the Queen's birthday.
Harry had his grandparents, the Queen and Prince Philip, as well as his brother Prince William and sister-in-law the Duchess of Cambridge in stitches, as he shared a joke with the royal family, who were gathered on the balcony of Buckingham Palace for an RAF flypast.
Kate Middleton couldn't conceal her laughter as her cheeky brother-in-law kept her amused. Dubbed the party Prince, Harry is renowned for his good humour and laid back attitude and has a close relationship with Kate who has described as being "the sister he never had."
Prince Harry's appearance at the Trooping ceremony comes months after he gave up his role as an Apache helicopter co-pilot gunner for a military desk job, with responsibilities that include organising major ceremonial events involving the Army.
He was not however involved in planning the Trooping the Colour event.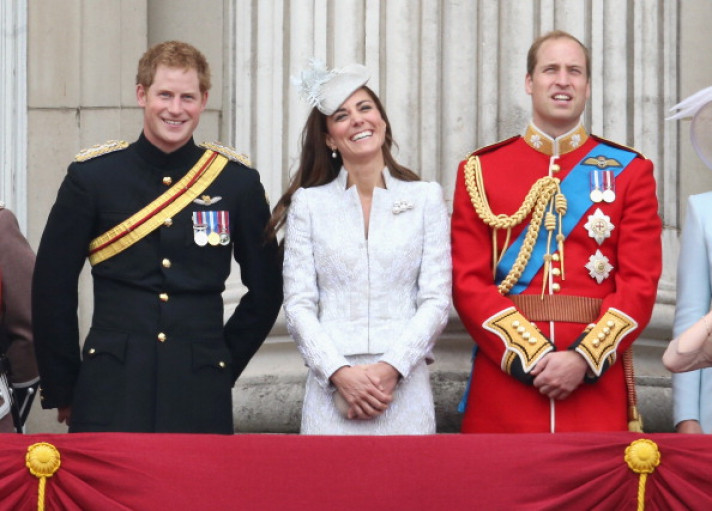 While Prince William and Kate waved to the cheering crowds that gathered to greet the royal family, there was no sign of Prince George.
The Prince of Wales, who is Colonel of the Welsh Guards, the Princess Royal, who is Colonel of the Blues and Royals, and the Duke of Cambridge, Colonel of the Irish Guards, were all on horseback for the ceremony.
Prince William took part in his first Trooping the Colour in 2011 after he was appointed Colonel of the Irish Guards.
During the parade, the Queen inspected 1,000 soldiers of the Household Division at Horse Guards Parade in central London.
Major General Edward Smyth-Osbourne, commander of the Household Division, said: "This year the centenary of the outbreak of the First World War is particularly poignant as we honour those who served, remember those who died and strive to ensure that the lessons learnt live with us forever.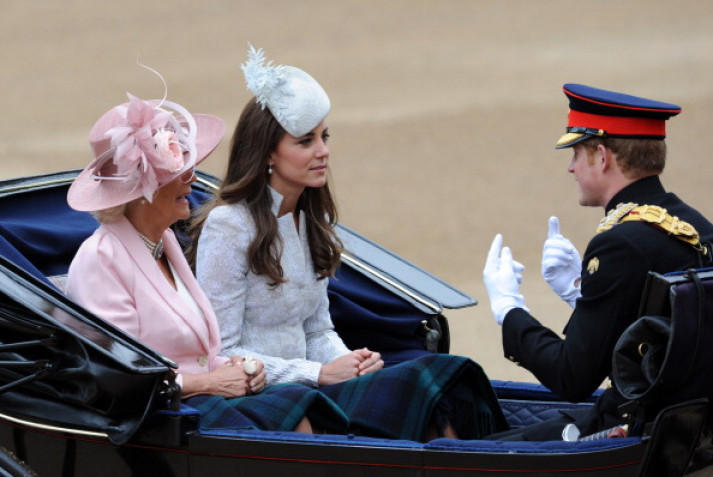 "It is also the 70th anniversary of the Normandy Campaign and the subsequent liberation of Nijmegen, the action for which this year's Escort is named.
"Next year is the 200th anniversary of Waterloo, the battle at which the Grenadiers earned their name.
"The Household Division Regiments have played their part in the momentous events of the past and, I am confident, stand ready for whatever we face in the future."
The King's Troop Royal Horse Artillery provided a 41-gun salute in Green Park to mark the Queen's official birthday before the royals appeared for the traditional RAF flypast.
The Queen's actual birthday was on April 21, when she turned 88.