The Duke and Duchess of Cambridge have stepped out on the second day of their high-profile royal visit to Sweden, with pregnant Kate Middleton wowing in a red and white houndstooth coat
The couple – who are expecting their third child in April – enjoyed a glamorous dinner with Oscar-winning actress Alicia Vikander last night (30 January), so it's no wonder they were all smiles upon heading to meet academics and professionals and discuss the country's approach to mental health today.
Kate, 36, looked vibrant in the coat designed by the late Diana, Princess of Wales' favourite designer Catherine Walker, worn over an Alexander McQueen dress.
She accessorised with a pair of earrings by Swedish jeweller In2Design in a nod to her hosts.
Kate also took the outfit up a notch by accessorising with a maroon Chanel bag from the French brand's Fall/Winter 2016-17 collection, retailing at £3,762. She mixed up her shoes with some burgundy leather pumps from Tod's and stayed true to her usual hair and makeup look of soft waves and fresh, natural skin.
Prince William, 35, was slightly more casual in a navy jacket and trousers worn with a jumper and blue shirt, with the couple being warmly welcomed by heir to the throne Crown Princess Victoria and her husband, Crown Prince Daniel – a former personal trainer.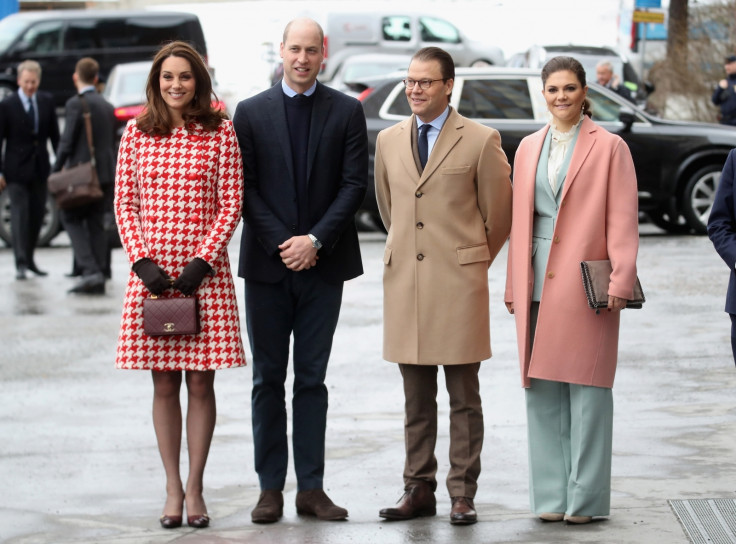 Kensington Palace tweeted: "This morning will focus on Sweden's pioneering work in the field of mental health and children's wellbeing, and how children and young teenagers are supported through the Swedish education system."
The Karolinka Institute is one of the largest and most prestigious medical universities in the world and accounts for over 40% of the medical academic research conducted in Sweden.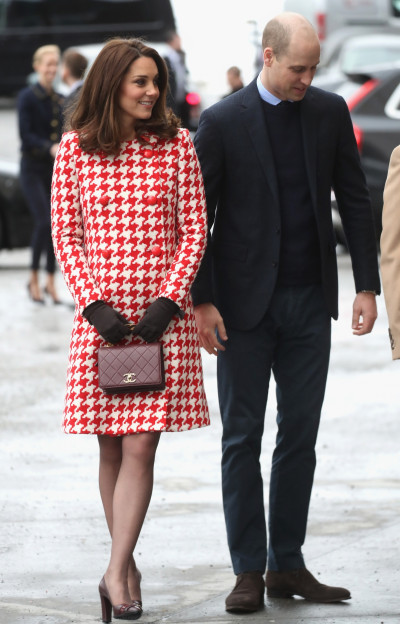 Crown Princess Victoria, 40, has opened up with her personal battle with mental health in the past, so will no doubt have much to discuss with William, who has public spoken about how he handled his grief after his mother Princess Diana's death. Victoria has admitted to struggling with "performance anxiety" and anorexia in her late teens and early twenties.
William and Kate will also hear about the Youth Aware of Mental Health (YAM) programme. Which is run by the National association for Suicide Research and Prevention of Mental Ill Health (NASP).