The Duchess of Cambridge angered some royal watchers while kick-starting her tour of Sweden and Norway with Prince William for allegedly wearing fox fur.
The pregnant royal, 36, was wrapped up warm in a black Burberry coat and fur-trimmed boots while enjoying a spot of Bandy at Vasaparken, Stockholm, but had unwittingly attracted attention to her bobble hat which was suspected to have been made with real fur.
A strikingly similar wool beanie, in the same salt and pepper grey plus white design with a large fluffy bobble, is being sold on Harvey Nichols' website for £240 and is by Eugenia Kim.
People were quick to criticise the duchess' choice of clothing, with one person writing on social media: "Okay so I'm disgusted of Kate.... not only her hat is made with artic fox fur but her coat is even too."
Another said: "Feel sick about the fur. Why are humans so cruel? Can't believe Kate supports this."
A third added: "You can wear cruelty free fur if you like real fur when you are in a position like Kate doing publicity for farmed fur is disgusting."
Another critic tweeted a snapshot of the similar hat on the Harvey Nichols website with the caption: "Kate Middleton was pictured in Stockholm in what appeared to be a Harvey Nichols hat with a bobble with 100% arctic fox fur. KP now SAYS the bobble was faux fur, BUT here is the real fox fur hat side-by-side with Kate's, it appears KensingtonPalace lied."
The New York brand Eugenia Kim has also boasted about Kate wearing its hat design on Instagram, though the comments section has been disabled. The brand posted the message: "Maybe we should call it the REIGN beanie instead Duchess Kate wears our RAIN in Charcoal on her first day of the Royal Tour Tap to shop now!"
It may also be ironic that Norway is to become the first Nordic country to ban fur industries ahead of Kate and William's visit.
Someone else tweeted: "The issue with fur however is big in Scandinavia, especially in Norway, as they're going to ban fur farms. So Kate wearing fur on this trip shows her total ignorance and stupidity."
Kensington Palace has responded to the angry backlash, insisting that Kate was wearing "faux fur", according to The Mirror.
Elisa Allen, Director Peta, said in a statement to IBTimes UK: "If the Duchess of Cambridge's hat is made with faux fur, Peta is delighted to see her take a leaf out of the Duchess of Cornwall's book – [Camilla reportedly swapped all her fur hats for luxurious faux fur versions].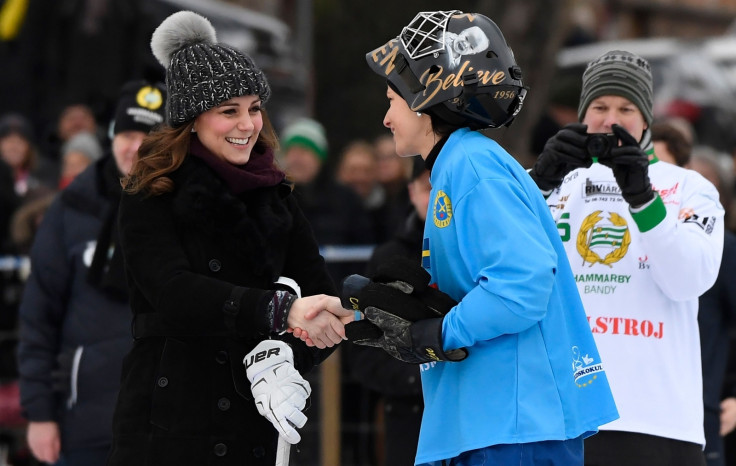 "Killing living beings in order to make pom-poms for hats or any other items is callous, cruel, and indefensible.
"These animals typically spend their entire lives on farms, crammed into tiny, filthy cages, before being strangled, electrocuted, or even skinned alive – as umpteen video exposés have shown and umpteen news stories have documented.
"Today's luxurious faux furs are fit for a queen – or a duchess."