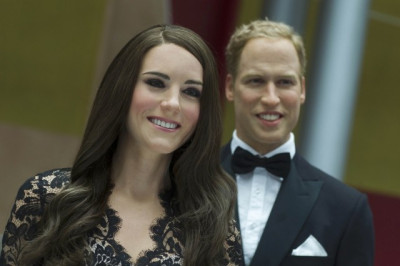 Waxworks of Kate Middleton and Prince William have been shipped from Madame Tussauds in London to its counterpart in the German capital of Berlin, where the figures will be on display for 12 weeks. The statues went on show for one day at the British embassy in Berlin before arriving at the museum.
The Berlin figures are one of three model pairs of the Duke and Duchess of Cambridge unveiled at Madame Tussauds in Amsterdam, London and New York, ahead of the royal couple's first wedding anniversary in April. The Berlin pair features Kate wearing the Alice Temperley cream and black lace gown worn to the UK premiere of the film War Horse in January.
A statement on the museum's Berlin website reads: "Do not miss the opportunity to (take) your photo with the newest member of the royal family - the Duchess of Cambridge. Catherine is wearing a black lace dress (that she wore to) the red carpet of a film premiere in London."
The other waxworks show Kate in a blue dress she wore for the official royal engagement portrait and the lavender Alexander McQueen gown worn during the visit to Los Angeles last year. As for Prince William, Reuters reports the Berlin model of the Duke of Cambridge wears a navy blue suit specially designed by Savile Row tailors Gieves and Hawkes.
Wax replicas of the British royal family have featured at Madame Tussauds since the time of William IV, whose likeness was unveiled in London in 1835. The Queen has been modelled more than 20 times; she personally sat six times, to enable the museum team to create a perfect likeness.
Click Start to see the wax statues of William and Kate on display at Madame Tussauds in Berlin