A copy of the Duchess of Cambridge's £1 million sapphire and diamond engagement ring has been excluded from a new collection of replica Royal jewellery going on sale to the public after it was reportedly vetoed by Kate Middleton.
The instantly recognisable ring was expected to be the centrepiece of the collection but despite being manufactured, the replicas have vanished from the 'Princess Diana jewellery collection'. The replica was expected to be sold online and at the Historic Royal Palaces gift shop at William and Kate's official residence, Kensington Palace.
But, news of its withdrawal for the souvenir collection has left the replica ring's manufacturer baffled, particularly since the replicas of the ring's matching earrings and necklace, will still be made available for £14.99 and £29.99 respectively.
A spokesman for manufacturers Bill Skinner Studio told Mail Online: "We do make the ring but they don't want us to supply it to the gift shop."
Royal sources believe that Kate herself may have banned the sale of the imitation because the real ring has such deep personal significance and sentimental value for her and her husband, Prince William.
A Palace source said: "I expect the feeling at Kensington Palace is that it's rather naff to sell cheap copies of Diana's engagement ring. One can hardly blame Kate for vetoing the idea of them selling a knock-off of the ring she wears every day."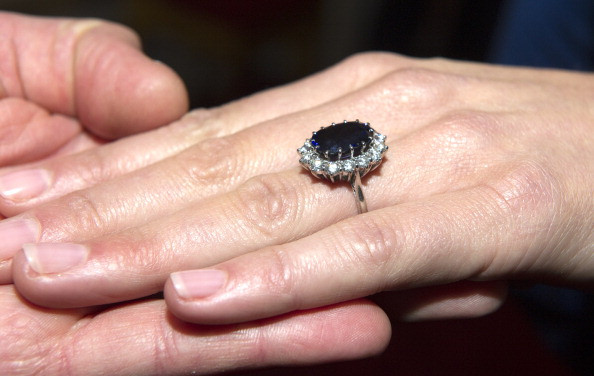 William had proposed to Kate with the engagement ring that had belonged to the late Princess Diana. The official announcement of the engagement was given by Clarence House on 17 November, 2010. Prince William said at the time that the ring "was very special to me" and that giving it to her was "my way of making sure my mother didn't miss out on today."
Prince William's mother, Diana, Princess of Wales, chose the £28,000 blue sapphire ring comprising of 14 diamonds surrounding a 12-carat oval blue Ceylon sapphire set in 18-carat white gold, for her engagement to Prince Charles.
Jewellery historian Leslie Field stated: "She [Diana] had obviously already said she would like a sapphire; she had half a dozen rings [to select from] and she chose this one purely because she liked it." Fields continued: "Somebody came up with the story that she immediately went for the biggest, but I asked her and she told me it definitely wasn't the biggest, she simply thought it was very beautiful."
A spokesman for Historic Royal Palaces declined to comment on the replica ring being absent from the collection, but pointed out that a miniature replica version of the ring is still available, as part of a £100 'ring charm' inspired by Kate's engagement ring.