Katie Price is no stranger to ruffling up a few feathers with her outspoken antics on daytime television.
The former glamour model, who is a regular panellist on Loose Women, shocked viewers with her appearance on Wednesday's (26 April) This Morning programme by using a racial slur during a casual chat with hosts Phillip Schofield and Holly Willoughby.
The 38-year-old was discussing the racial abuse her 14-year-old son Harvey receives, stating the offensive word 'n***er' twice while discussing her petition for stronger penalties against online trolls.
The mother-of-five claimed that her son – whose father is former footballer Dwight Yorke – had been described online as a "blind, black, n***er".
Schofield, 55, appeared concerned that Price had used the slur more than once on the live programme, telling the TV personality: "Hey, you don't need to say it again".
Despite Price stating the offensive word live on air, watchers of the programme jumped to her defence on social media sharing site Twitter, with one person writing: "There's 10 times more shock about Katie Price saying 'n***er' on TV, than there is about her son being called one. That speaks volumes", as another wrote: "Gotta feel sorry for Katie price, she's only saying what disgusting things her son gets called and she's gettin the grief for it".
A third added: "If you're offended by Katie Price saying the N word twice on this morning then imagine how her and Harvey feel getting it off trolls!!!"
Some viewers thought that Price's use of the word was gratuitious, with another This Morning viewer writing: "Dropping the N bomb repeatedly on #ThisMorning really doesn't make your message any stronger @MissKatiePrice".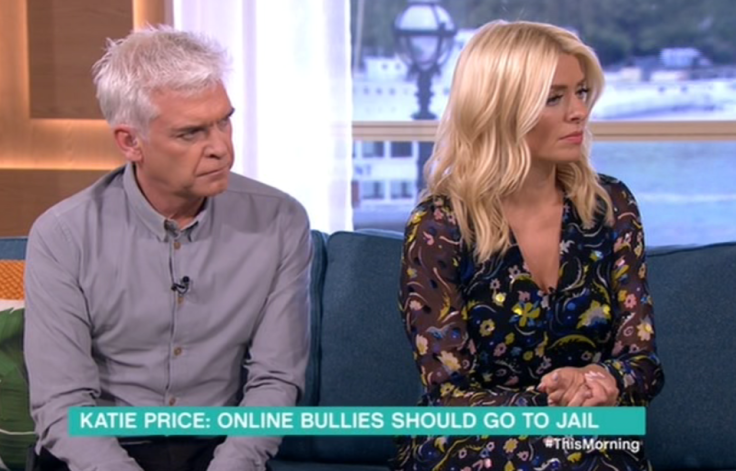 During the candid chat, Price explained her goal is to lobby the government to impose harsher penalties on haters.
She said: "Obviously, I've had it online, but I've become immune to it – although why should anyone ever have to get used to that? But when it comes to Harvey, every day people say things about him, but there's some that's so bad that I was like, 'How can people get away with this?"'
She added: "It would be refreshing if these trolls, these online bullies, I'd like one of them to have the balls for me to talk to, or interview them and say, 'What is that goes through your head, why do you do it?' Someone has to sit down and take time to do this, what goes through their head?"
The model called for more stringent checks to take place when people create new social media accounts on the likes of Instagram and Twitter, but claimed she doesn't want to take away freedom of speech, "But you know when you're crossing the line."
Following her interview, Price posted a video of her in the back of a cab speaking about why she used the racial slur, stating that "it is not acceptable" and that she is glad she made the headlines in order to raise awareness.