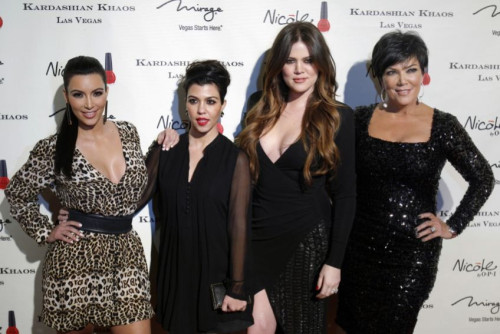 The Kardashian sisters making fun of each other on national television is nothing new. But as per a teaser of the new episode of Keeping Up With The Kardashians, Khloe and Kourtney seem to have discovered a way by which they can make fun of their sister Kim while she is in the same room.
According to a report in Enstars, the two Kardashian sisters devised a hilarious way to gossip about Kim. In the clip, in front of Kim, Kourtney and Khloe began complaining about a woman called Nancy. Kim had no clue that they were really talking about her.
"How annoying is Nance?" Kourtney said, to which Kim instantly asked, "Who is this Nancy person?" She went on to say that if Kourtney and Khloe know Nancy, then it's highly unlikely that she does not know her.
"I feel like I would really know who this Nancy person is, because I know everyone," Kim said.
Khloe continued complaining about 'Nancy' calling her "an annoying, judgmental h****r". "She called me the other day just to critique stuff like how I look in photos and stuff I shouldn't wear," she said. Kourtney added that Nancy does the same thing to her all the time.
Both sisters seemed to be really pleased with themselves for coming up with this hilarious way of gossiping about Kim. In a private interview Kourtney said, "Khloe and I are having so much fun calling her Nancy because she has no idea who we're talking about. There's only so much our souls can handle when it comes to Kim with her criticism day after day. If she's gonna mess with us then we're gonna mess with her back."
Click here to watch the video of Khloe and Kourtney making fun of Kim