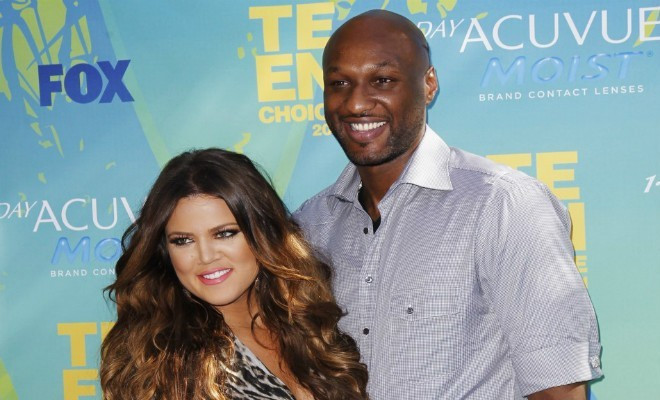 After maintaining silence over the issue of his divorce, Lamar Odom finally spoke out. While the Khloe Kardashian-Lamar Odom divorce track continues to be one of the main tracks on Keeping Up With the Kardashians, chances of the reality show couple getting back together just got slim, from none.
The former NBA star shared with the press that he doesn't think their marriage is completely over, reports Enstars.
Odom told Us Weekly during a recent press conference, "I love my wife. She'll always be my wife, no matter what. Who knows? We don't know exactly if the divorce is going through. Only time will tell. I hope not. But even if we were divorced, she would always be my wife."
After four years of being married, Kardashian filed for divorce from Odom in December 2013. Odom states that he does not regret the decision to get married.
"Those were some of the best years of my life. Being married and being married to a woman I decided to marry was, besides having children, the most important thing in my life."
According to rumours, it was Odom's constant struggle with drugs and cheating that led to the separation. However, he argues saying that he has issues like "everyone else".
"We all have regrets, but the thing is to learn from life. There's no one in this room, no one in this world who can say, 'I'm mistake-free, I have made no mistakes.' If you can introduce me to that person, please introduce me to that person. Let me meet him and speak to him."
Odom also blamed the reality shows that was part of (Keeping Up With the Kardashians and Khloe and Lamar on E!) for people forming a 'misconceived' notion about him.
"I think we prejudge a little bit too much these days because there's so much access to everything about the world. It's easy for us to look at a YouTube video or a program that doesn't turn off and say, 'This guy must be this way," he said.