Kendrick Lamar was the most powerful thing to emerge from the 2016 Grammys. Just like Beyonce did at the Super Bowl one week prior, the acclaimed rapper audaciously brought the Black Lives Matter movement right to the forefront of the music industry. It was a defining moment for Lamar and somewhat bookmarked what has been an unprecedented progression from one corner of Compton to his position now as the face of black excellence.
And it was all with the help of one album. To Pimp A Butterfly is remarkably different from Lamar's debut, Good Kid, M.A.A.D. City, but by no means less effective. In fact, it is more so, proven in his latest performance. The 28-year-old brought Africa to the Grammys stage with tribal dancers. He put the spotlight on what he calls "modern-day slavery" with black prison inmates shackled in chains and, most importantly, he made it even more difficult for America to ignore the racial injustice in today's society.
Commanding the stage for seven breathtaking minutes, Lamar became the mouthpiece for those who feel oppressed whether it is due to the colour of their skin or gender. From The Blacker The Berry to Black Lives Matter anthem Alright and a new freestyle, Lamar made his message of equality and discrimination clear.
Listen to Kendrick Lamar's Alright:
Whereas Lamar's first album was important to hip hop, his second hits home with the oppressed everywhere regardless of their musical taste. But where did the journey begin for the man often hailed as rap's saviour?
Good Kid, M.A.A.D. City is one of the most critically acclaimed records to emerge from rap in the past decade. The concept album served as more of a diary of Lamar's childhood growing up in the dangerous California area of Compton in Los Angeles, where he witnessed the gangs and drug culture all the while trying to decipher his crush on a girl named Sherane, who becomes a key subject throughout the record.
The album very much provided a window into Lamar's life as a young man hoping to break free of Compton's confines and the stereotypes that come with living in the rough area. By the time he got to his second album, To Pimp A Butterfly, the focus on these issues had magnified and were explored on an even wider scale.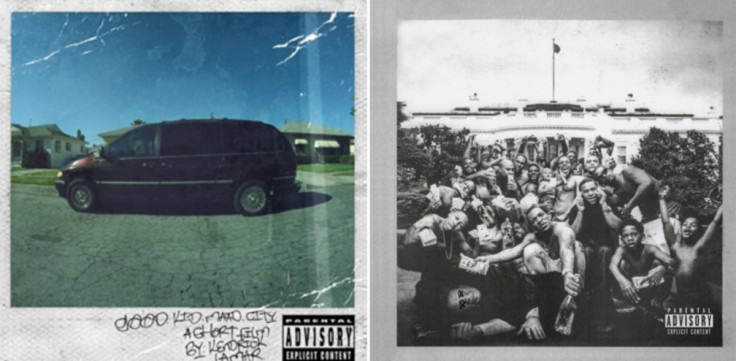 A little more experienced in the music industry, the album honed in on celebrity culture and the misconceptions of fame those on the outside looking in may have. As he raps on King Kunta: "Bitch, where was you when I was walkin'? Now I run the game got the whole world talkin', King Kunta / Everybody wanna cut the legs off him / Black man taking no losses." In other words, now Lamar is "someone", those who wouldn't look twice before now want a piece of the pie while others are jealous of his success, keen to bring him down.
Perhaps where Beyonce found inspiration for the lyrics on Formation, Lamar explicitly calls out racism on The Blacker The Berry and it's entirely uncomfortable but nonetheless gets his point across. He raps: "I'm African-American, I'm African, I'm black as the moon, heritage of a small village... My hair is nappy, my d**k is big, my nose is round and wide / You hate me don't you? You hate my people, your plan is to terminate my culture."
In 2016, who else – besides perhaps J Cole – in mainstream rap has the balls to address racism in such a raw manner? Sadly, no one. Three years after his debut dropped, Lamar is bolder and braver than ever before and nobody, not even the Grammys, can shut him down. Alright has become the soundtrack for civil rights campaigners and Lamar is supporting them using his microphone as a megaphone. He may have been robbed of the album of the year Grammy but he is the rightful winner of using rap for good. Bravo, Kendrick.
Watch Kendrick Lamar's Grammys performance: