Pop superstar George Michael died because his body became "too weak" that it just gave up on him, claims his former partner Kenny Goss.
Described by the singer as "the love of his life", Goss has recently been in the UK comforting Michael's close family as they wait for his body to be released for a funeral.
The former Wham! star died aged 55 on Christmas Day at his home in Goring, Oxford after suffering suspected heart failure following years of drug abuse.
In the months following his death, numerous figures have suggested these habits could have played a key role in his passing.
But, amid all the speculation, which has seen Michael's last partner Fadi Fawaz — who found his dead body — thrust into the spotlight, Goss has remained silent.
That is until now, as the family await results of toxicology tests before the body can be released.
Speaking to The Sunday Mirror in Los Angeles at Sir Elton John's Aid's Foundation Academy Awards Viewing Party, Goss revealed his thoughts on Michael's tragic passing.
When asked what he thinks caused Michael's death, he replied: "I can't say for sure but I think his body just gave up. All these years, it was just weak."
Looking back on their time together, he added, "We were together for 15 years and in the gay world that is a long time."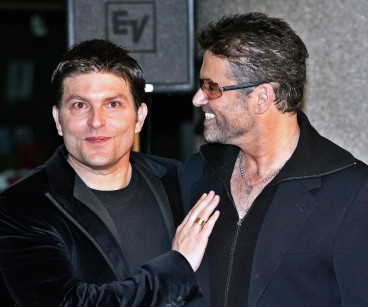 "People used to say we ­argued but we wouldn't really. It was always just silly things about who had the remote control," he added. "When we split up there was no big argument, it was just how it was. It was a lovely relationship. I miss him."
The pair went public with their open relationship in 1998 after Michael was caught by a plainclothes police officer engaging in a "lewd act" in a California toilet.
After falling in love, the pair set up the Goss-Michael art in the US to help artists and students, part of a myriad of charitable initiatives set up by Michael.
He also made many much publicised anonymous donations, which have only come to light after his death.
Although the couple split up in 2009, they remained close friends and described each other as soulmates, making sure they both stayed involved in their charity work.
Goss admits he was torn about speaking publicly, calling it a "tricky thing," until he was eventually swayed by the importance of their philanthropic causes.
"Jolene, by Dolly Parton, was one of George's ­favourite songs and when I was thinking about what to do it started playing on the radio," he explained.
"I thought that was a sign. We had two dogs together and one of them was ­barking a lot, I also thought that was him trying to tell me something.
"At the end of the day, we need to spread the word about the charities. He would have wanted that. That's the most important thing.
"His generosity was ­endless, he helped so many people.
"We will keep on hearing more and more stories about how he helped others. That is how people will remember him."