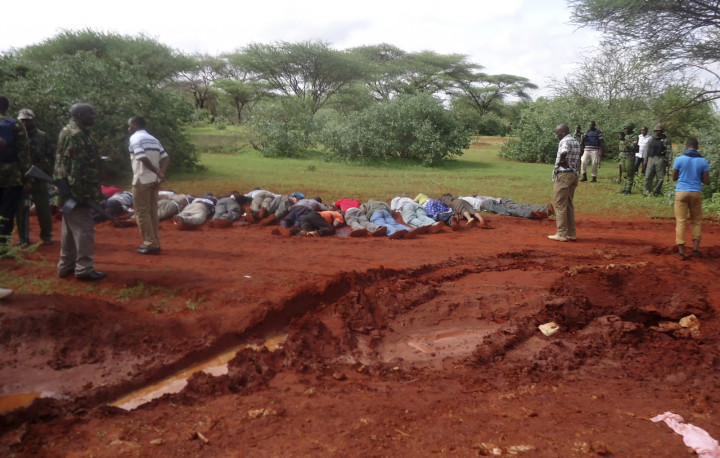 Authorities in Kenya claim the country's forces have killed more than 100 al-Shabaab Islamists who were allegedly behind the bus attack in Mandera in which 28 non-Muslims were executed by the Somali militants.
The Kenya Defence Forces (KDF) is believed to have carried out the counter-terrorism operation at two places.
"Our retaliatory action left in its trail more than 100 fatalities. It also destroyed four technicals [pick-up trucks mounted with guns] and the camp which this crime was planed," Deputy President William Ruto told reporters.
"Those who perpetuated these acts of criminality on 28 Kenyans, they too did not live to celebrate the crime they had committed. We are going to make sure incidents like this are avoided in future."
Armed militants ambushed the Nairobi-bound bus in Mandera town located near the Kenya-Somalia border and isolated non-Muslims and killed them. Survivors have provided chilling accounts of the incident.
The insurgent group has denied any operation against the organisation has taken place and insisted none of its fighters were harmed as claimed by the Kenyan forces.
"We have seen the absurd claim by the Kenyan authorities that they killed the Mujahedeen who carried out the Mandera attack, a totally baseless and unfounded claim.
"Claims like these are only spewed by the Kenyan authorities to cover up their failure to secure the safety of their people and in an attempt to douse the raging anger of the Kenyan public, after the severe blow the Mujahedeen delivered to them," said Sheikh Abdiasis Abu Musab, a spokesperson for the militant organisation, according to local reports.
Images of the anti-terror operation have also begun to surface though their veracity could not be independently confirmed.