Somalia President Mohamed Abdullahi Mohamed gets support from Kenya, Ethiopia and Djibouti leaders
Presidents sat among delegates of 124 countries at newly-elected President Farmajo's inauguration.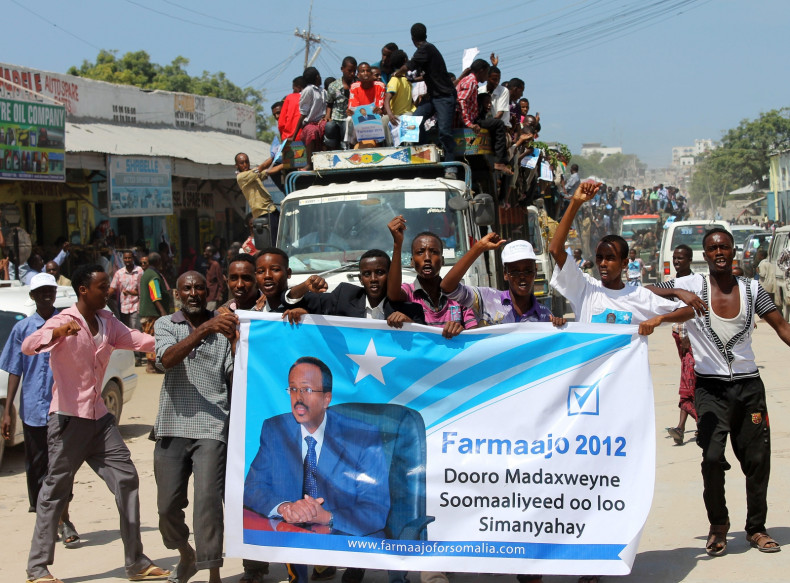 Leaders of Djibouti, Kenya and Ethiopia have pledged to stand by Somalia during the inauguration of the nation's newly-elected President Mohamed Abdullahi Mohamed or 'Farmajo' as he is known.
Djibouti president Ismaïl Omar Guelleh, Ethiopia's Hailemariam Desalegn and Kenyan President Uhuru Kenyatta were among the representatives from 124 countries attending Farmajo's inauguration which began at 11am (local time) at a hangar at Aden Adde International Airport in the capital, Mogadishu.
Heads of state from Somalia's neighbours took turns to make speeches. Terror group al-Shabaab has been waging war against high-level government and civilian targets for more than six years in Somalia – and neighbouring countries such as Kenya and Ethiopia. Farmajo reportedly sent emissaries to the latter, to reaffirm his intention to work together to eradicate terrorism.
Desalegn told the crowd: "People of Somalia set great example to other countries in conflict. Ethiopia's government and its people will stand on your side. It's our wish to see a stable Somalia that contributes to regional stability and prosperity."
Kenyatta, who has been in office since 2013 said Farmajo had made "our region and the continent very proud in the way you conducted your election", in reference to the peaceful transfer of power following the first national election of its kind in more than 30 years.
Addressing Farmajo, he added: "You assume office at a time of great expectation; this is both here and in the diaspora". At nearly half a million, Kenya hosts the largest number of Somali migrants of any other country, according to United Nations estimates. This includes both refugees and non-refugees.
"I assure you of Kenya support, my admin will stay steadfast in search for sustainable peace in Somalia," Kenyatta added.
Djibouti's leader, Ismaïl Omar Guelleh later praised Somalia's outgoing president Hassan Sheikh Mahmoud for the work he did in building federal institutions, and called for peace to be restored in Somalia.
"We would like to see Somalia at peace with itself," Guelleh said. "The support you received is a message from the public that you will have to reflect that trust. Djibouti will spare no effort in standing by you; long live Somalia."
Stephen Schwartz, the first United States (US) ambassador to Somalia in 25 years, reiterated the US's pledge to work with Somalia's new government. Marking a landmark in US-Somali relations, Schwartz was sworn in to office in June last year.
During his electoral campaign, former prime minister Farmajo promised to fight emboldened Islamist terror group al-Shabaab, widespread corruption, and improve the daily life of Somalis amid a mostly man-made famine.