As Kenya looks increasingly likely to carry on with plans to expel hundreds of thousands of desperate refugees from its territory within the next six months, 21-year old refugee Nazrit can consider himself lucky. He has been selected for resettlement in Canada.
For more than 20 years, Kenya has been home to generations of refugees and asylum seekers who fled political and ethnic tensions, violent conflicts, civil wars, genocide and famine in neighbouring countries. There have been three main durable solutions for refugees in Kenya that the international community is able to assist with: local integration, repatriation and resettlement.
However, Kenya's traditionally accommodating asylum regime has shifted, and there is now deep concern among agencies working on refugee protection that preparations for the repatriation of refugees has been conducted in haste.
The country's encampment policy has left little room for local integration and repatriation is now seen as involuntary in some cases. Many refugees have been left with just the mere hope they will make the 1% of the 10.5m refugees that the United Nation Refugee Agency (UNHCR) typically deals with and refers for resettlement.
One of the lucky few, a young boy named Nazrit, told IBTimes UK his story.
While his family had initially hoped it would be able to locally integrate after living and surviving on the outskirts of Nairobi, Kenya's encampment policy put a stop to their dreams. Nazrit's parents and nine children were forced to leave their home, and start a new life in Kakuma refugee camp.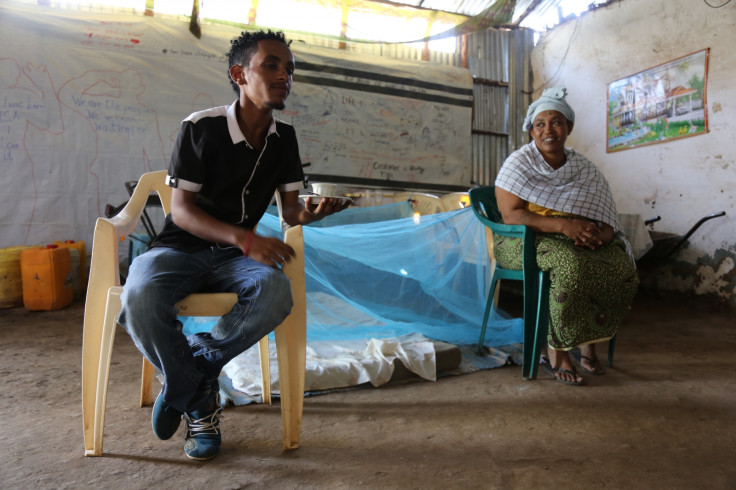 'Army jeeps, gunshots, screaming everywhere, smoke and burning'
Originating from Shone, a small town in Ethiopia's southern region, Nazrit – whose mother is Eritrean and father is Ethiopian – was just six when two major events pushed his family to flee: the Eritrea and Ethiopia border war and the 2000 post-election violence.
The war, which left an estimated 100,000 dead, saw the Ethiopian government pass a decree by which all Eritreans should be deported back to Eritrea – although married to an Ethiopian, Nazrit's mother faced expulsion. Meanwhile, the young boy's father, a preacher, and his grandfather were both unlawfully jailed for five months by the army for opposing the government. The family claims they were wrongfully accused because they came from southern parts of Ethiopia – seen as strongholds for the opposition.
After unfair elections, the government deployed the army. "I remember this although I was just six. Normally Tuesdays are market day, and our house was located on the market grounds. That week, there was no market, just these jeeps of the army patrolling, gunshots, screaming everywhere, smoke and burning," he said.
In 2001, pressure mounted on both parents, and the family fled. It happened very quickly. "I think we got help, as crossing the border into Kenya was the tricky part. Maybe we used middlemen, I am not sure. Obviously, my mother was troubled, she was crying so I knew something was wrong when we suddenly changed environment," Nazrit recalled, in perfect English.
"I can only remember wearing a pair of [shoes] that were so uncomfortable to travel with – that's all I can remember of our trip: that my toe was so swollen from wearing these shoes. I can't remember carrying any toys, except my favourite hair comb – I still have it. It's the oldest item in our house," he said.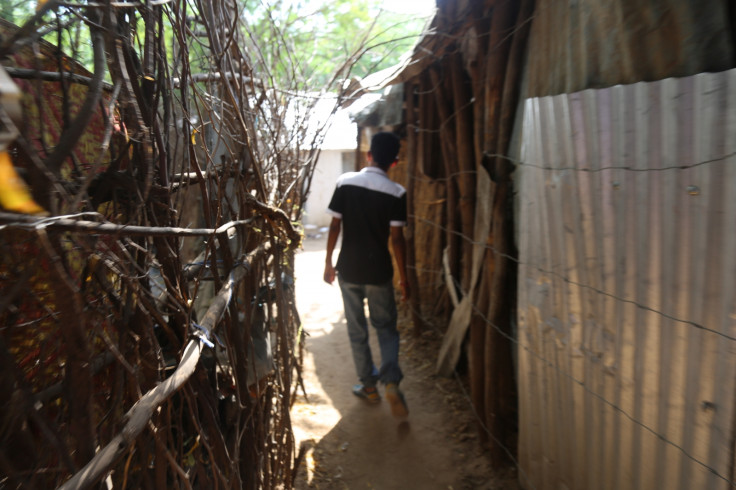 Uprooted and forced into a refugee camp
Upon arrival in Kenya, churchgoers helped the family – who lived in a small town outside of Nairobi – where Nazrit was publicly educated until eighth grade. Kenya's government introduced its Refugee Act in 2006 and Nazrit was given an alien ID, meaning the family was living legally in the country.
But after the Al-Shabaab Westgate attack in 2013, the forced encampment law – stating that every refugee must go back to camps – was passed. Nazrit was just 18. To get their 5-year ID documents renewed, the family had to leave the urban centre and move to Kakuma camp, now home to almost 184,400 refugees.
"Suddenly, we found ourselves with no wells, no paying jobs, no income – so the pressure was on me to get an education and change my family's life," Nazrit explained.
The young man, who says he has experienced big differences between the Kenyan education system and that within the camp, was lucky to enrol in the JC:HEM programme (Jesuit Commons Higher Education at the Margins), a collaborative education partnership offered in Kakuma camp. This, he believes, gave him the possibility to obtain a place with World University Service of Canada (WUSC) – a higher education programme which grants scholarships to refugees at universities.
The University of Toronto, where he will study economics, accepted Nazrit's application this spring. He expects to fly to Canada after the summer – in time for the new university year.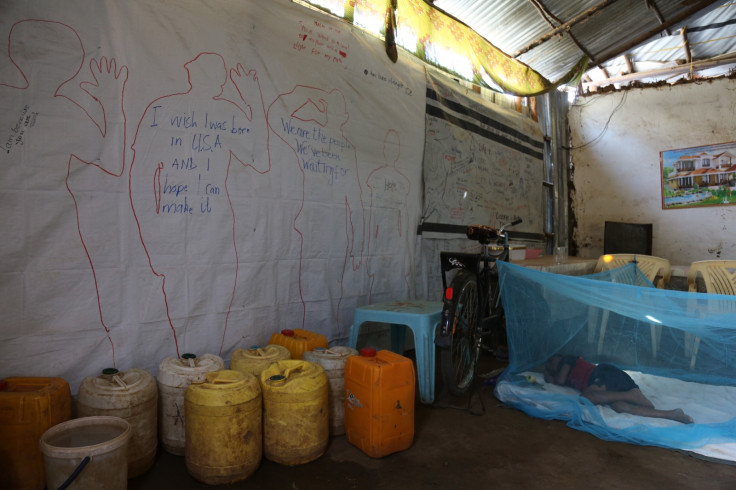 'Resettlement is every refugee's desire'
Nazrit's case is somewhat unusual, however: he first applied for a scholarship at a university in Canada specifically for refugees, before being selected for resettlement – which is not easily granted.
Agencies typically consider the most vulnerable refugees, or those who have stayed too long in the camp as priorities for resettlement, based on the following criteria: legal and physical protection needs, survivors of violence and torture, medical needs, women-at-risk, family reunification, children and adolescents, elderly refugees and lack of local integration and voluntary return prospects.
"Resettlement is every refugee's desire: it's better than the two other options. Repatriation is a no-choice because your refugee status just proves that you cannot go back to your country for fear for your life or persecution. Local integration is not desirable here, because even the government of Kenya is not that supportive," Nazrit explained. "My family did integrate, we had settled and were surviving but our integration was taken off the table when we were forced to move into the camp."
"You find people wasting their lives, who have been here for the past 24 or 25 years, just depending on the food rations, while they could have contributed a lot to society if given educational or work opportunities," the student explained, pointing to refugees' lack of civil rights including freedom to education and freedom to work.
"Local integration and resettlement should be enhanced to engage these people in being productive in society. But this camp, it just curtails it all."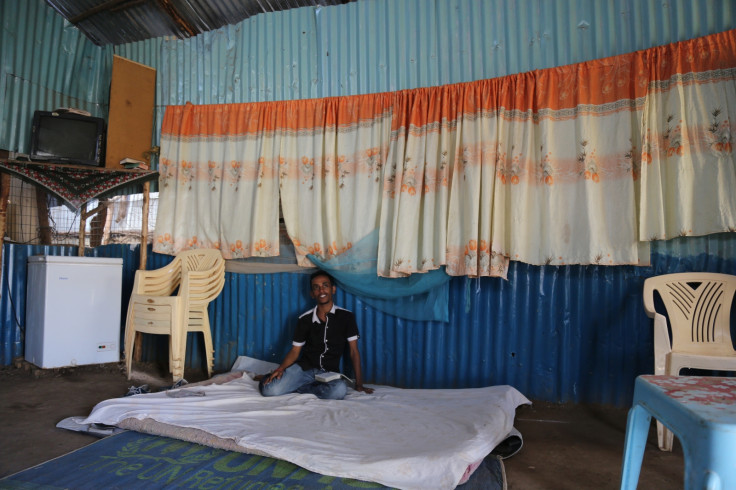 'Maybe, I'll become Canadian'
Reflecting the degree to which the identity issue resonates for a majority of uprooted refugees, Nazrit explains he can't identify with the Ethiopians, can barely identify with the Eritreans or the Kenyans despite sharing their culture and growing up with them. He simply states: "Maybe, I'll become Canadian".
"I'm expecting a lot of change – environmental, social, political – which is better than where I am right now because here I have no identity, I am stateless. Six of my siblings were born in Kenya, but their birth certificate state it is no proof of citizenship. If I was a citizen I would have been able to go to the University of Nairobi."
While he said he is looking forward to exploring new cultures and places, Nazrit shared his one fear: that the politics of his country could follow him to Canada.
"I'm not a political guy and I don't want to be asked which tribe I am from or what I plan to do if I go back to Ethiopia. I don't plan to go (to Canada), get educated and come back seeking political power. I just want to start a new chapter."