Bishop Eliud Wabukala, a former head of the Anglican church, has been sworn in as Kenya's new anti-corruption boss.
President Uhuru Kenyatta nominated the retired archbishop to replace the Ethics and Anti-corruption Commission (EACC) former Chairman Philip Kinisu, who resigned in August 2016 when he was accused of facilitating corruption following claims that his family business had received lucrative tenders from the Devolution and Planning Ministry implicated in graft.
At a time when systemic corruption is perceived to be high, IBTimes UK looks at the first man of the cloth to head the country's anti-graft agency, who many hope will have a different approach to his predecessor's.
The 66-year-old Bishop of the Diocese of All Saints Cathedral and the fifth Primate of the Anglican Church of Kenya, was born in Bungoma West district, located in Western Kenya on the border of Uganda.
Wabukala's story mirror that of many children living in rural villages: he had to walk 10km every way in both directions to go attend the Malakisi Primary School. After graduation from the local high school in 1969, Wabukala worked as an untrained teacher – a period of his life during which he educated his two sisters and five brothers.
After a stint as a clerical officer in Nakuru, the fourth largest city in Kenya, Wabukala returned to teaching, this time in the northern agricultural town of Kitale before graduating as a teacher in 1974.
After a decade of teaching, and having undertook the role of Inspector of Schools of a local district, Wabukala decided to study theology. By 1990, he had received a scholarship to study at the Toronto School of Theology, in Canada. After graduating with a doctorate four years later, he returned to Kenya, where he became a theology lecturer in Limuru, central Kenya.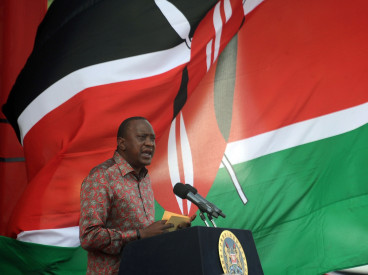 In 1996, he resigned and became the first Bishop of Bungoma, a position he held until 2008. The clergyman succeeded to Benjamin Nzimbi as Archbishop of Kenya in April 2009, and was consecrated in July that year.
Upon his nomination, Kenya's top officials said pious Wabukala, who was member of the National Anti-Corruption Campaign Steering Committee for five years, met all the requirements to deliver on his new mandate.
"He is eminently qualified and respected leader who will deliver his mandate at the helm of the commission to the expectations of Kenyans," President Uhuru Kenyatta said as he congratulating Wabukala on his new appointment. Attorney General Githu Muigai added, "there are no good hands to fight this war than the hands of a man of God".
Wabukala, meanwhile, urged for stronger cooperation with other state agencies to help his agency's efforts to eliminate corruption. "I know there are challenges ahead but I am confident I am up to the task," the clergyman said after his nomination.
Former Kanduyi MP Alfred Khang'ati questioned the clergyman's ability to handle the same hostility that his predecessors faced, arguing that the position was "political". "Listen to me, my friend Bishop Wabukala. Please reject this position. This is not the right office for you," the MP is quoted as saying.