Kenya's striking doctors and nurses, who have been on strike over pay and working conditions for one month and five days, have rejected government claims that the strike is endangering lives of patients.
The doctors union (KMPDU) began a strike, on 5 December, over the government's failure to implement a pay package conforming to an agreement signed by unions and the government in 2013. As the strike lengthened, President Uhuru Kenyatta urged the medics to return to work, saying dozens of people had died due to the industrial action because of lack of treatment. The doctors have been given an ultimatum to report to work on Wednesday, or face disciplinary action.
A spokesman for the striking doctors has rejected claims that patients are left dying, or forced to seek alternative treatment options at the few private, and expensive, hospitals across the East African nation of 47.9 million people.
"I can understand why the President would say that but I can tell you that in our Constitution, Article 41 says that every individual is entitled to emergency medical care in any facility – public and private included – for free," Nairobi KMPDU secretary Alex Thuranira Kuagiri told IBTimes UK from the Kenyan capital.
"When we went on strike we did not close private clinics or hospitals, and we told our fellow private practitioners to continue their job and that we would argue for better working conditions for all."
'I am risking my life and that of my daughter'
The doctor, who is part of the negotiating team who failed to reach some kind of agreement after meeting with Kenyatta last week, instead rejected the blame on the small county governments' "really bad mismanagement of human resources" of the devolved care system.
"In the last three years, we have lost 2,300 doctors from the public sector, going to work for the private sector and others leaving the country. This is because of poor salaries, poor working conditions, no career progression, no promotions," Thuranira said. A doctor's basic salary is Sh40,000 ($385, £316) a month.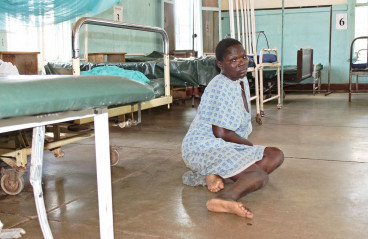 There is currently one doctor for every 1,700 patients, and while the government is committed to hiring 1,200 doctors every year, it will only reach the World Health Organisation's recommendations that Kenya provides one doctor for every 1,000 patients in five years. The government announced it would be hiring doctors, from India and Cuba.
"The commitment to hire more doctors will reduce that ratio, but within the next five years, we will approach that ratio. But for now, I am risking my life and that of my daughter," the spokesman said. "So we said, enough is enough. We cannot continue losing doctors. It is up to us to fight for a better healthcare, for our parents, for our children and for the rest of Kenyans or any visitor who will come here."
Besides better working conditions, Thuranira says doctors are not provided compensation for the risks they face. "When I am at work, I am taking risks. Unfortunately I contracted hepatitis B trying to help you and I am not compensated. Yet, a soldier who is at war in Somalia who gets an injury will be treated for free in Kenya and he will be compensated."
Kenya's doctors and nurses strike: A timeline
In 2011, doctors went on strike for seven days, during which they demanded improved healthcare facilities. The government responded by giving doctors two allowances and agreed to embark on discussions for a collective bargaining agreement – or CBA.
Meant to be ended within 60 days, the process actually took two years and the agreement document was signed on the 27 June 2013.
Under Kenyan law, it is the government's obligation to deposit the document in an industrial court for it to be implemented immediately. The document must be registered within a year. "The government refused to do that," Thuranira said.
In 2015, the document became null and void, so the union took the government to court and sued it for failure to register the CBA. After an 18-months lengthy court battle, a court ruling was handed in October 2016, stipulating the government should engage with doctors within 30 days, and for the document to be registered in court again, within 90 days. That period ended on Friday (6 January).
Thuranira said: "We had tried our best, we have been patient for three and a half years but they (government) did nothing. We realised that the only music the government listens to is a strike, so we issued our strike notice."
The government urged the doctors to postpone the strike, but doctors carried on regardless on 5 December 2016. "They still seem to think that the document they signed is inexistent. So the strike continued," the doctor said. On 4 January, the President and Union representatives met, but they failed to reach an agreement.