Human rights activists have called on International Criminal Court (ICC) member states to address an issue highlighted by ICC judges who, on 19 September, reported Kenya for not cooperating in the case against Kenya's President Uhuru Kenyatta.
Kenyatta, then deputy prime minister and finance minister, was the first head of state to appear before the ICC after he was charged in January 2012 for crimes against humanity for his alleged role in organising and financing murder, displacement, and rape during the violence which followed the country's 2007-08 election.
ICC 'biased' towards African continent?
Several African states, which form majority of the 124-strong ICC membership, have announced their intention to pull out of the court, as they say all the 23 cases the ICC is investigating are in Africa – something they perceive as being biased towards the continent.
Countries including Uganda and South Africa have reminded the international community that the ICC has never opened an official investigation outside of Africa since it was established in 2002.
In 2015, Zimbabwean President Robert Mugabe called on African leaders to establish an ICC which would be mandated to prosecute Western leaders who have committed crimes on the African continent. At the time, the nonagenarian said the court should try former British PM Tony Blair and ex-US president George W Bush.
With the ICC perceived to be anti-African, hybrid courts have been set up - including the one that is trying former Chadian dictator Hissène Habré.
Around 1,200 people were killed and more than 600,000 were displaced in Kenya between December 2007 and February 2008, a period marred by mass violence and ethnic killings. In 2014, rights groups estimated the post-election violence may have included 40,000 incidents of sexual and gender-based violence.
In 2014, however, the court had to withdraw the charges for lack of evidence, after a large number of witnesses were allegedly intimidated into changing their testimony. According to ICC findings, Kenya failed to provide assistance to the prosecution's investigations, including by not complying fully with the prosecution's request for tax, bank, company, land transfer and telephone records. As an ICC member country, Kenya is obligated to cooperate with the court.
The dismissal of a crimes against humanity case against Kenya's vice-president William Ruto and his co-accused journalist Joshua Arap Sang in April 2016 was a big blow to the ICC, after the trial was marred by bribery and threats.
HRW: Kenya's non-cooperation 'should not go unchecked'
The issue of whether the East African authorities should be sanctioned for lack of cooperation in the case remained pending until the ICC trial chamber's finding on 19 September. The judges' decision is the first ICC "finding of non-cooperation" sent to the Assembly of States Parties.
"The ICC has squarely called out Kenya's breach of its obligations to the ICC," Elizabeth Evenson, associate international justice director at Human Rights Watch (HRW), said. "ICC member countries should make sure the message is heard in Nairobi that they will not turn a blind eye to the government's obstruction of justice."
"Defaulting on legal obligations to the ICC should not be allowed to go unchecked," Evenson continued. "Member countries should take Kenya's obstruction seriously, as they should whenever the court's judges find that a state party has breached its obligations to the court."
Hostile rhetoric from Kenya against ICC
Kenya's failure to comply fully with the prosecution's requests came against a backdrop of hostile rhetoric from the government against the ICC proceedings. In April this year, Kenyatta vowed that no other "Kenyan would go to the ICC" at a rally at Nakuru's Afraha Stadium, adding that he would fast-track the process of withdrawing the country from the court.
"I will not allow any other Kenyan to be tried in a foreign country. My solemn vow is that never again will the country fight over political rivalry. The ICC and Hague chapter is closed permanently and those who benefited should know that we are now a very peaceful and God-fearing country," Kenyatta told the crowd during the rally.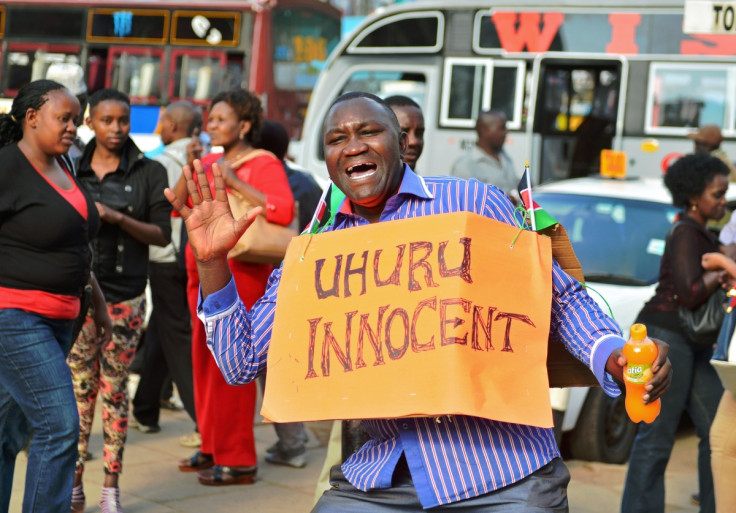 Later in April, Kenyatta formally asked MPs to approve laws to pull Kenya out of the ICC's founding Rome statute, as he hit the campaign trail ahead of the 2017 election.
Kenyatta's motion to pull Kenya out of the ICC was followed by a diplomatic campaign, particularly within the African Union (AU), to "undermine African support for the ICC", according to HRW. His administration called the ICC a "toy of declining imperial powers".
ICC judges have issued previous non-cooperation decisions against the governments of Chad, Democratic Republic of Congo (DRC), Djibouti, Malawi, and Uganda for allowing President Omar al-Bashir of Sudan, who is wanted on two outstanding ICC warrants, to visit their countries without facing arrest.