Seven Kenyan national doctors' union officials have been sentenced to serve one month in state prison after being convicted of contempt of court over a 10-weeks doctors strike over pay and working conditions.
The doctors union (KMPDU) began a strike, on 5 December 2016, over the government's failure to implement a pay package conforming to an agreement signed by unions and the government in 2013.
As the strike lengthened, President Uhuru Kenyatta urged the medics to return to work, saying dozens of people had died due to the industrial action because of lack of treatment.
The doctors were given an ultimatum to report to work or face disciplinary action.
This morning (Monday 13 February), High Court Judge Hellen Wasilwat jailed seven KMPDU officials for a month over the strike that has crippled public hospitals for 10 weeks, because, she ruled, they ignored an earlier court order to end the strike.
Their sentences come a month after Wasilwat first handed them suspended sentences over the strike.
At the hearing this morning, Wasilwat said the union officials had provided no reason for their punishment to be deferred.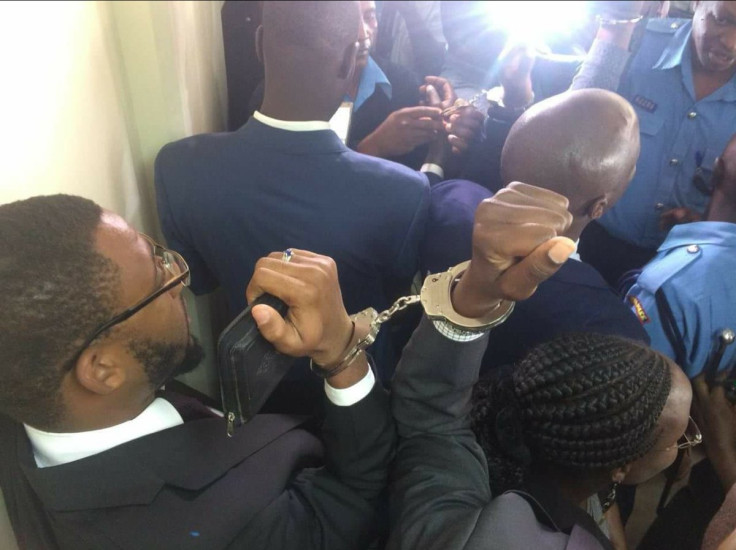 Handcuffed, the union representatives were driven to jail past doctors wearing white gowns and surgical caps blowing whistles and chanting angrily outside the court, according to Reuters news agency.
Reacting the sentencing, the union tweeted: "Our leaders have been sentenced to one month jail for fighting for better healthcare for Kenyans."
At the centre of the dispute is the 2013 collective bargaining agreement (CBA), which promised to improve terms of work, increase the number of doctors, a 300% pay increase, and increase research funds, drugs and equipment in public hospitals.
Ahead of the hearing, the KMPDU tweeted: "Day 71 of the doctors strike. We will not accept any offers OUTSIDE the 2013 CBA [...] The 2013 CBA is the return to work formula."
'We cannot continue losing doctors'
A spokesman for the striking doctors, Nairobi KMPDU secretary Alex Thuranira Kuagiri, told IBTimes UK Kenya is currently facing a health crisis, having lost 2,300 doctors from the public sector in the last three years.
"This is because of poor salaries, poor working conditions, no career progression, no promotions," Thuranira said. A doctor's basic salary is Sh40,000 ($385, £316) a month.
There is currently one doctor for every 1,700 patients, and while the government is committed to hiring 1,200 doctors every year, it will only reach the World Health Organisation's recommendations that Kenya provides one doctor for every 1,000 patients in five years. The government announced it would be hiring doctors, from India and Cuba.
"Enough is enough. We cannot continue losing doctors. It is up to us to fight for a better healthcare, for our parents, for our children and for the rest of Kenyans or any visitor who will come here."
The strike is described by many as a test of Kenyatta's leadership ahead of the much anticipated August general election.