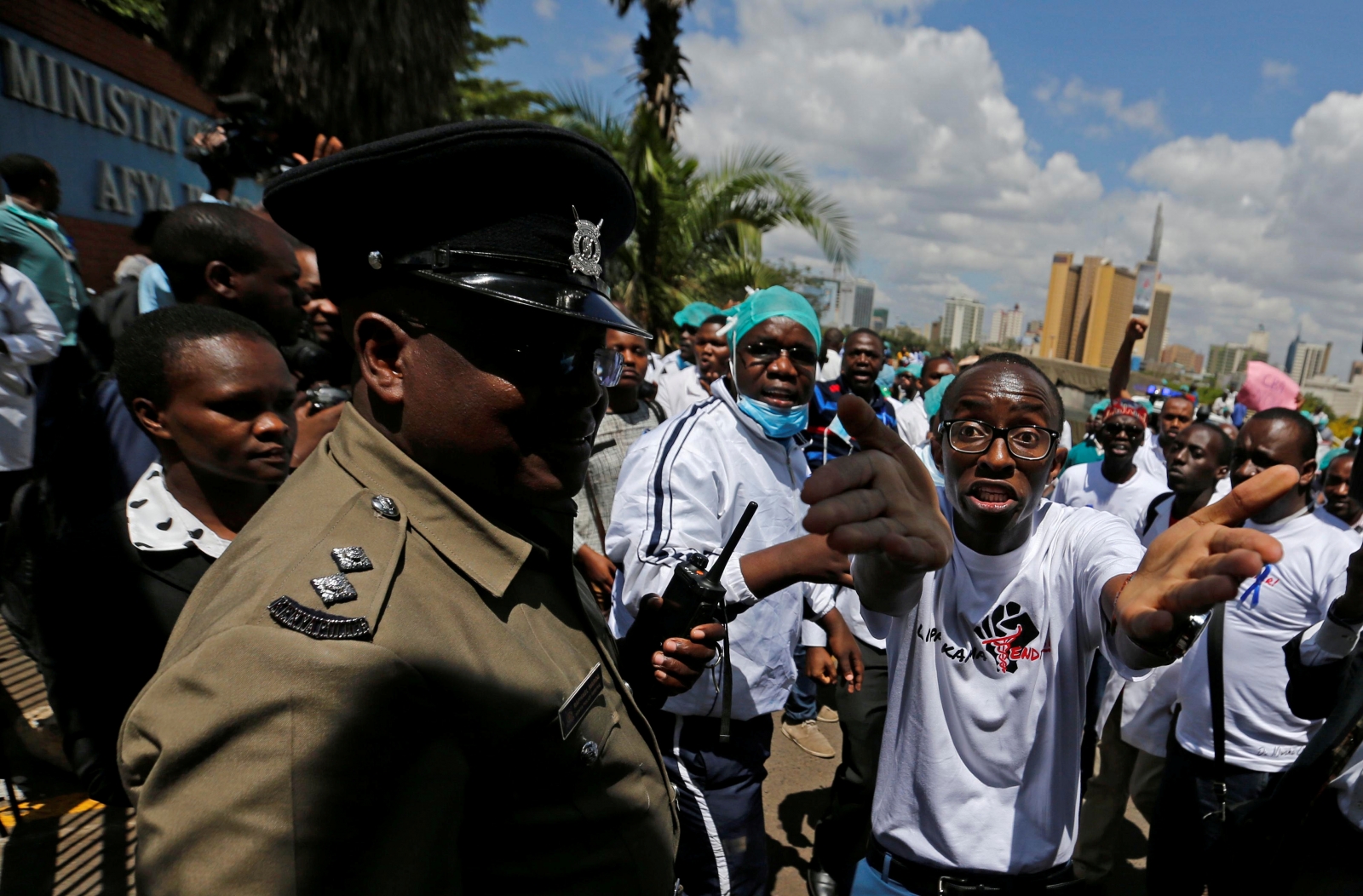 Striking doctors and nurses, who are demanding the government implement a pay package conforming to an agreement signed by the unions and the government in 2013, have rejected the latest pay offer by the government.
The 2013 collective bargaining agreement (CBA), promised to reside terms of work, increase the number of doctors, a 300% pay increase, and increase research funds, drugs and equipment in public hospitals. The agreement was never implemented.
President Uhuru Kenyatta met representatives of the doctors' union on Tuesday (3 January 2017) and made an offer to raise the health workers' wages by at least $560 (£450), in an attempt to end the month-long nationwide strike.
However, the union which was set to respond to the Ministry of Health's proposal today, had rejected the offer, saying it "fails to capture the salary structure that was agreed collectively between us and the government".
On Twitter, the Kenya Medical Practitioners, Pharmacists and Dentists Union (KMPDU) outlined reasons for refusing the offer, arguing that the deal would "favour doctors" but exclude the public, that the offer was outside of the 2013 terms.
The union said the offer leaves out the need to equip hospitals with equipment and drugs and to train more doctors and absorb them into public service; leaves out research funding to improve clinical management and outcome.
The union used the hashtag #offernotCBA and said it would carry on the strike "in our quest to improve healthcare delivery in this country".
The strike, which lasted for a month and two days, has strained operations in public healthcare facilities and desperate Kenyans have been forced to seek alternative treatment options at the few private, and expensive, hospitals across the East African nation of 47.9 million people.
Local media claim that some 40 people have died since the beginning of the strike, as a result of the lack of doctors. Last week, reports emerged that Kenyatta's government were looking into hiring foreign doctors from India and Cuba to replace the striking doctors.