People with albinism are being attacked, abducted and killed in East and Southern Africa, but Kenya is hoping to change the perception of albinos as it holds the first Mr & Miss Albinism beauty pageant on Africa Human Rights Day.
Organisers, the Albinism Society of Kenya (ASK), are hoping the pageant will promote inclusion of people with albinism, who often face stigma, alienation and even physical abuse in a region that has been rocked by an unprecedented wave of killings of albinos.
What is albinism?
Around one in 20,000 people are the world are born with oculocutaneous albinism, caused by a lack of the pigment melanin, which gives hair, skin and eyes their colour.
The lack of pigmentation in the hair, skin and eyes, causes vulnerability to sun exposure and bright light.
Almost all people with albinism are visually impaired, with the majority classified as legally blind, Don Sawatzky, director of Under the Same Sun, an NGO working to combat discrimination against albinism, told IBTimes UK.
Indeed, reports of attacks have been increasing since late 2014 in neighbouring Malawi and Tanzania, where it is believed that body parts of albinos can be used to bring luck or used in charms and magic potions. Harmful beliefs go further to claim that having sexual relations with an albino cures HIV and Aids..
As a result, a UN special envoy earlier this year declared that the atrocities render persons with albinism "an endangered people group facing a risk of systemic extinction over time if nothing is done to stem the tide".
Mr & Miss Albinism Kenya 2016 propelled a number of young albinos into the limelight after a first round of auditions held on 24 September 24 in the capital, Nairobi.
"Persons with albinism are extremely excited about this first ever Mr and Miss Albinism. It has never happened before and they have an opportunity to showcase what they got and I can assure you it's something," MP Isaac Mwaura for Special Interest Group, and ASK's National Coordinator told local press.
"A lot still remains to be done if we are to combat the stigma and discrimination faced by persons with albinism in many parts of the country."
He continued: "We need to increase levels of awareness, give children a chance to attend school, provide sunscreen lotion and skin cancer treatment, improve access to eye care services – especially prescription glasses, open job placement opportunities including self-employment, lobby for better policies and most importantly, increase the self-esteem of persons with albinism."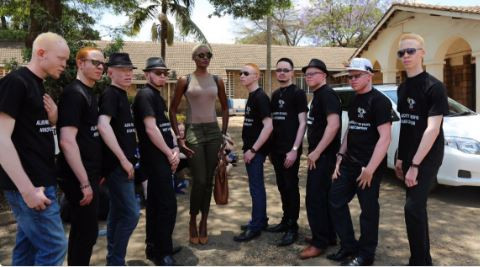 Gunning for the crown and the wish to play an instrumental role of being an awareness ambassador for children with albinism in the region, dozens of participants have been appealing for the public to vote for the best model.
Albino models are increasingly taking centre stage outside of the region. Besides Shaun Ross, an American known for being the first male albino professional fashion model, African-American actress Diandra Forrest was the first female albino to be signed to a major modelling agency.
Publicised alongside the hashtag #BeautyBeyondTheSkin, the pageant will taking place this evening (21 October) from 6.30pm local time at Carnivore Simba Saloon in Nairobi. The campaign will be running every year, the organisers said.
Here are some of the contenders hoping to win the crown: