Kerry accuses Russia of 'extraordinarily craven behaviour' over Ukraine; threatens more sanctions
US secretary of state slams Russia for breaching Ukraine ceasefire in meeting with British counterpart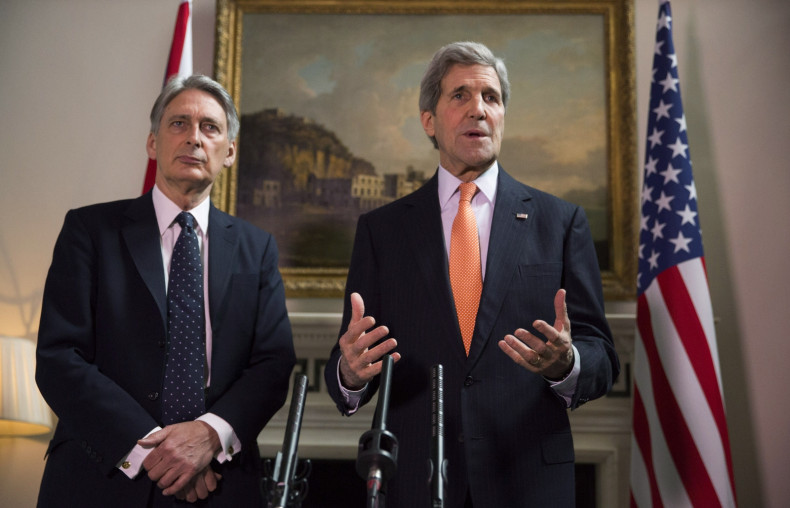 Russia could face more sanctions for undermining a European-brokered truce in eastern Ukraine, US Secretary of State John Kerry said on Saturday.
The top US diplomat accused Moscow of "extraordinarily craven behaviour at the expense of the sovereignty and integrity of a nation," as he sat down for talks with British counterpart Philip Hammond in London.
"We are talking about additional sanctions," Kerry said. "This is behaviour that is completely counter to everything that the global community has worked to achieve and to put in place ever since World War II. And I'm confident that the United Kingdom, the United States, and others are prepared to stand up to it.
Russia is accused of sending troops and tanks into eastern Ukraine, despite a ceasefire that began on Sunday (15 February) that was brokered by Germany and France.
"Russia has engaged in an absolutely brazen and cynical process over these last days," Kerry said, adding that the US is certain of Russia's involvement in eastern Ukraine and the support it provides to the separatists there.
"We are talking about additional sanctions, about additional efforts, and I'm confident over the next days people will make it clear that we are not going to play this game," he added.
Fighting raged in eastern Ukraine on 18 February, as pro-Russian separatists spurned the truce and forced out government troops to take over the strategic railway hub of Debaltseve. At least 20 Ukrainian soldiers were killed in the fighting.
An assault on Mariupol, a port town of 500,000 people and the biggest government-held city in the two rebellious eastern provinces, now worries Kiev, with the government braced for attack.
British Foreign Secretary Hammond said that the two men would discuss the challenges faced by "Russia's continued aggression [and] the unacceptable way in which the ceasefire agreement that was signed just 10 days ago has been so systematically breached."
Kerry and Hammond said they will also discuss the threats posed by Islamic State (Isis) in Syria and Iraq, with a particular emphasis on Islamist extremism in Libya.