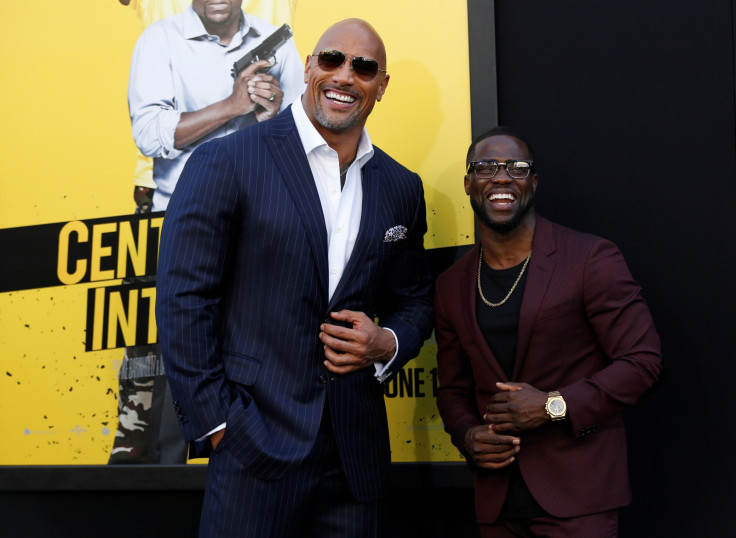 Kevin Hart has claimed that he is "much better" than Dwayne Johnson in their upcoming Jumanji sequel. The comedian/actor also criticised the former WWE wrestler's on-set habit of taking a car between sets instead of walking, which the 37-year-old actor prefers to do.
"I'm much better than Dwayne Johnson in this movie," Hart told Entertainment Tonight in New York on Wednesday (12 October) at the premiere of his new stand-up comedy movie Kevin Hart: What Now?
"I like to be a person. I like to be a human being. I like to use my legs when we're talking about 100 feet. In other words, if it's from here to here, I can walk there. I see where I have to go! His legs are double my size. So it's going to take me a good minute to get there. He could cut that in half because his steps are bigger steps," Hart was quoted as saying by Complex.
Speaking about the movie, Hart said that the makers of the Jumanji sequel are not trying to outdo the 1995 original, but have created a storyline which shares the same universe.
"I don't want people to think that we're redoing Jumanji -- it's a continuation. If Jumanji was to move on, this is what it would be," he told the news website. "I think the audience is in for a treat, you know? Not only do we have a great cast, we have a great director [Jake Kasdan], and I think he's doing a great job of putting the film together."
Apart from Hart and Johnson, the cast of the movie includes Jack Black, Nick Jonas, Karen Gillan among others. Currently, filming for the movie is underway in the dense wilderness of Hawaii. The movie is set to release on 28 July 2017.