Kia is on track to sell a record 80,000 cars in the UK this year and the company's boss wants to raise the bar even higher.
Paul Philpott, chief executive of Kia Motors UK, spoke to IBTimes UK about why the South Korean firm's popularity is growing.
"We've been on a growth curve since 2008. Back then, we sold 30,000 cars per year in the UK, this year we're on track to sell 80,000 for the first time in our history, it will be a record year."
It is not surprising. Car makers have enjoyed an extended boom of late, with the UK experiencing 39 consecutive months of sales growth, according to trade body Society of Motor Manufacturers and Traders (SMMT).
Philpott points to macro-economic factors that have played a part.
"Confidence has continued to grow as the economy has come back better than expected. Add into that low interest rates and increased access to finance, it means it has been a good time to buy cars. There was also a lot of pent-up demand from the recession. A lot of analysts say that PPI claims have had an impact, but I don't personally subscribe to that."
The UK is now Kia's biggest market in Europe and accounts for 22% of Western European sales. Philpott is targeting 100,000 car sales a year by the 2020. Kia, which started selling cars in the UK in 1991, is expected to show up to 5% sales growth in Britain when it reports results for the half-year next month.
Premium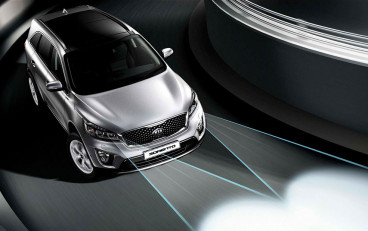 In February, Kia set out its stall to better compete with the premium market in the UK and take on the likes of Audi, BMW and Mercedes-Benz. To this end, its latest Sorento model was its first to go on sale at over £40,000.
The plan appears to be paying off, with Philpott revealing that sales are up 40% from March.
"It shows that Kia is a brand that's being accepted by a much broader spectrum of customer. In fact, a lot of people are adopting Kia as their second car, after perhaps one of the German premium cars."
Global
Globally, Kia has been hit by the downturn in Russia, with the company reporting a 54% fall in net profit there in the final quarter of last year. As well as falling car sales in the country, the collapse of the rouble against the South Korean won has also put the skids on its Russian market.
"Russia is a difficult market for everyone. But we are still well up in Western Europe and the good thing about Kia is that we aren't overly exposed to one major market."
Kia's global car sales also broke a record last year, going through 3m for the first time, giving the firm an overall 3.6% market share.
Exports make up around 53% of the South Korean economy and firms like Samsung, LG and Kia's sister company Hyundai have become household names.
"I think what our success shows is the quality of Korean brands," Philpott said.