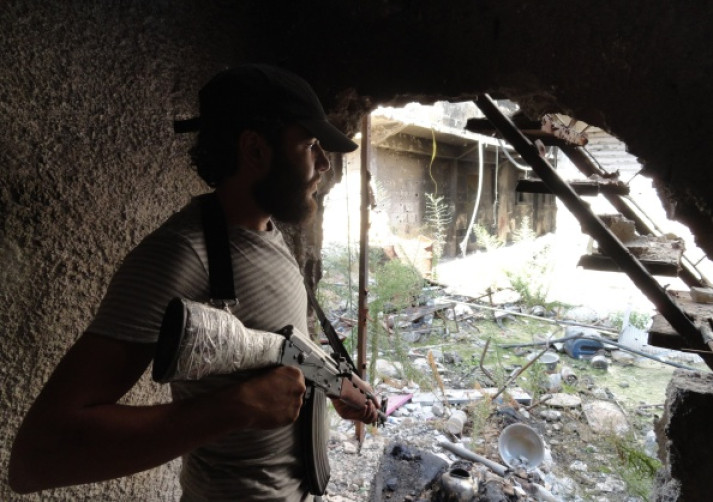 US journalist, Peter Theo Curtis, who had been held captive for nearly two years, has been freed in Syria and handed over to UN representatives with the help of negotiators from Qatar, US officials confirmed today (24 August).
Nusra distinguishes itself from ISIS by releasing journalist Peter Curtis. Still tortured him. http://t.co/RW9agXQ7a8 pic.twitter.com/CHIv8bfcg2

— Kenneth Roth (@KenRoth) August 24, 2014
Picture of journalist Peter Theo #Curtis who was released by #Nusra_Front today pic.twitter.com/0xX2iCUcTk — Carol Malouf (@carolmalouf) August 24, 2014
Curtis was abducted near the Syria-Turkey border in October 2012, when he was planning on entering Syria.
According to Al Jazeera, a video was released on 30 June showing Curtis to be in good health with a long hair and beard. He was reading a script detailing his name and profession, and explained how he "had everything" adding that "everything has been perfect, food, clothing, even friends now."
It's unclear which militant group was behind Curtis's abduction, as most are usually motivated by extracting money from governments, said Al Jazeera's Rula Amin from Beirut, Lebanon.
"In many cases prisoners change hands between groups, so it's very hard to track down which group holds which hostage," added Amin.
Freedom
A 27-year-old German hostage was also released earlier by Islamic State militants.
German newspaper, die Welt, had confirmed that Berlin reportedly made a deal, and "something was given in return for his release".
Rebels in Syria also released a group of nuns this year, under a prisoner exchange deal, where 150 female prisoners were released by the government in exchange.
The recent news comes as the world is still reeling from the graphic beheading video of US journalist James Foley.
In the video, released on 20 August, the Islamic State militant who murdered Foley further warned the US that if America's attacks continue, American journalist, Steven Sotloff, who is also being held as a hostage, will be murdered next.
"The life of this American citizen, Obama, depends on your next decision," said the militant.
The Committee to Protect Journalists has estimated that around 20 journalists are currently missing in Syria, and many of them are believed to be held by Islamic State.