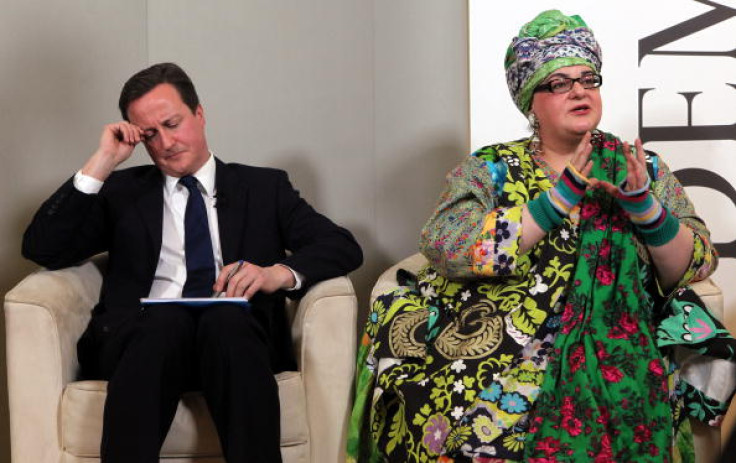 Flamboyant charity boss Camila Batmanghelidjh has denied claims that she "mesmerised" ministers and David Cameron into handing over millions of pounds for her now defunct institution. Batmanghelidjh, making her first public appearance since a group of MPs made a damning assessment of her leadership, also defended her time at the top of Kids Company.
"I think that it's sad that people think in this day and age that you can mesmerise people," she told BBC Radio 4's Woman's Hour. "I present arguments that I hope are robust, and people that I deal with I hope have the intelligence to scrutinise my arguments and make their own decisions.
"I would put the question to you another way – if I was capable of mesmerising the prime minister of this country, who have you voted for? Because that would be very dangerous."
The radio interview comes after the powerful Public Administration Committee criticised Batmanghelidjh and Kids Company trustees over "negligent financial mismanagement" and "lavish spending". The MPs ultimately concluded that the London-based charity was a failed "13 year experiment".
The charity collapsed in August 2015 amid "financial mismanagement" allegations, claims which Batmanghelidjh and chairman of the trustees Alan Yentob denied. The closure came just days after the organisation was given a £3m ($4.3m) grant from the government and after investigations from BBC's Newsnight, BuzzFeed and The Spectator into the charity.
The Metropolitan Police dropped an investigation into claims that the charity failed to safeguard children, but Kids Company is still subject to a probe from watchdog the Charity Commission.
A former psychologist for the charity, Dr Helen Winter, was suspended on 11 February for 12 months after admitting to taking a class-A drug (MDMA) with one of the charity's clients in 2014. Despite the "serious conduct", a Health and Care Professions Council (HCPC) panel decided not to strike her off from its register permanently.