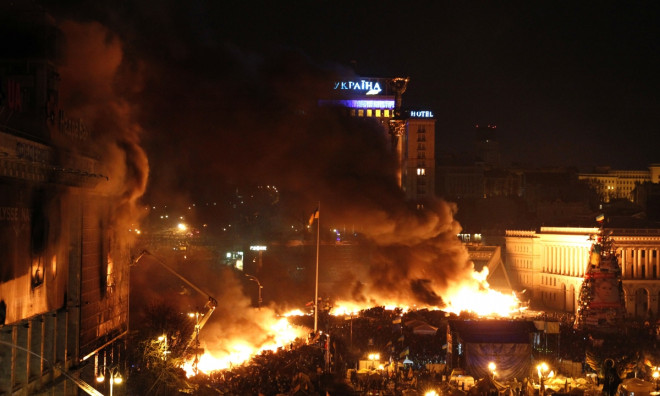 Ukrainian President Viktor Yanukovych has blamed opposition forces for the bloodshed in Kiev and urged key anti-government leaders to distance themselves from "radical forces" even as riot police storm protest sites in Independence Square.
President Yanukovych urged anti-government groups to end the "senseless conflict" after the latest round of skirmishes killed 21 people, including seven security personnel, and seriously injured 200.
Hours after central Kiev witnessed one of its bloodiest days, the Ukrainian riot police descended on Independence Square, the nucleus of the three-month-long protests.
The police operation in the "Maidan" began shortly after negotiations between Yanukovych and opposition leaders Vitali Klitschko and Arseniy Yatsenyuk failed.
Police warned women and children to leave the area immediately and used loudspeakers to announce they were launching an "anti-terrorist" operation.
The protest epicentre turned into a war zone as demonstrators confronted police with fireworks, rocks and bats even as security forces tried to evacuate the protesters by dismantling barricades and using stun grenades.
Flames engulfed parts of the encampment as protesters burnt tents, piles of tyres and wood. Blazes raged in many parts of Kiev, releasing huge plumes of smoke into the night sky, despite police efforts to douse them.
"We will not go anywhere from here. This is an island of freedom and we will defend it," said the boxer-turned-political leader Klitschko.
"I am very unhappy because it was no discussion and the President doesn't want to listen to the opposition. They don't want to listen, it's just one way and the opposition and all protesters have to stop protests."
The opposition leader has said he has quit talks with Yanukovych.
Root cause
Western governments have urged the Ukrainian administration to show restraint in confrontations with the demonstrators.
US Vice President Joe Biden had held a late-night telephone conversation with Yanukovych about the volatile situation.
"The vice president further underscored the urgency of immediate dialogue with opposition leaders to address protesters' legitimate grievances and to put forward serious proposals for political reform," the White House said.
EU foreign policy chief Catherine Ashton exhorted Yanukovych "to address the root cause of the crisis".
Ukraine has been reeling under severe unrest after Yanukovych decided not to sign a deal with EU, apparently siding with Russia.