North Korea has been exporting thousands of labourers to around 40 countries where they toil in mines, as construction labourers and in textile factories.
While it might appear as if the labourers might be leading a better life outside the dictatorship the reality is quite the opposite.
According to ABC, Kim Jong-un is using the money sent home by around 90,000 North Korean 'slave labourers' to fund Pyongyang's nuclear programme and building projects, recently doubling the size of the country's foreign labour programme.
The East Asian country had earlier generated capital allegedly by selling arms, smuggling drugs and counterfeiting US dollars. But with all the UN sanctions drying up its cash coffers, Pyongyang appears to have devised the alternative method of exploiting slave labourers to ensure cash flow.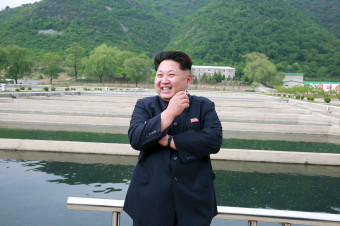 "Since Kim Jong-un came to power, slave labour has exploded. We estimate there are about 90,000 [labourers] and that brings roughly US$2 billion a year to the regime," said Myeong Chul Ahn, executive director of North Korean Watch in Seoul.
ABC quoted Rim Il, a North Korean man who has defected to the South, as saying: "[Initially] there was plenty of rice and even soup with meat. In North Korea this was unimaginable," he said.
Rim worked as a carpenter in Kuwait but in no time his life in the Middle East turned into a nightmare. He had to work 16-hour days and was imprisoned in a compound, and did not get to see any of his wages as it was sent directly to North Korea.
"Looking back I can [see] we were treated like beasts not human beings, we basically weren't human," Rim said.
It started as a 'dream job' for Il as earning $120 (£77) a month and having three meals a day was something he could hardly achieve in North Korea.
The Australian news network spoke to three other North Koreans who worked in Serbian logging camps and have since defected to South Korea. The trio had to work for long hours without any safety gear in sub-zero temperatures.
The men, who were not identified, said many of their co-workers died, but they could not escape because the regime held their family members back in North Korea for ransom. They were lucky to get 10% of their wage while in Serbia, the report said.
Slave labourers from North Korea work in mines in Mongolia, in Chinese textile factories and in construction projects in the Middle East. According to estimates, Russia now houses around 25,000 North Korean workers.
More about North Korea