North Korean leader Kim Jong-un has ordered the deployment of a new intermediate-range ballistic missile for combat use a day after the country test-fired a new projectile. Pyongyang said the launch on Sunday, 21 May, was successful.
With tensions rising in the Korean peninsula, the North had fired off a missile, which flew about 560km towards the Sea of Japan triggering quick condemnation from neighbours and elsewhere. The reclusive regime said the rocket was the medium-range Pukguksong-2 missile and comes within a week of a similar launch.
Crucially, the ground-to-ground projectile, also known as the KN-15 missile, was powered by a solid-fuelled engine, which would make it harder to detect — a definite worry for the North's adversaries. Compared to liquid-fuelled engines, the solid-fuelled ones pose a greater danger considering they are more stable and can be mounted at short notice.
Overseeing the launch, Kim voiced satisfaction with the missile's accuracy in striking intended targets, said a Korean Central News Agency (KCNA) in a dispatch issued on Monday, 22 May. Hailing the Pukguksong-2 as a "successful strategic weapon" the third-generation dictator ordered troops to put it in immediate military use.
"This type of missile should be rapidly mass-produced in a serial way to arm the KPA [Korean People's Army] Strategic Force," Kim said.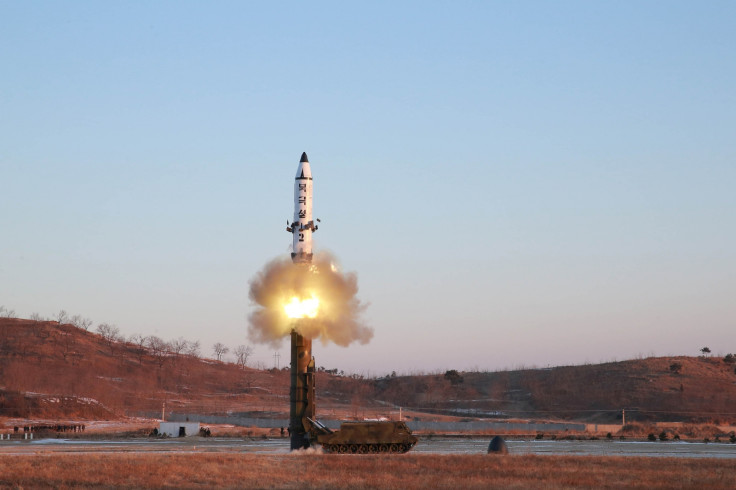 South Korea and the US said the missile appeared to be the same type that was fired in February, immediately after US President Donald Trump took office. However, the latest one looks like a modified land-based version of the earlier one, which was a submarine-launched ballistic missile (SLBM).
North Korea's launch has sparked a series of condemnation from its adversaries – the US, South Korea, and Japan – who have now called for a closed-door UN Security Session on Tuesday. Japanese Prime Minister Shinzo Abe said Pyongyang's repeated provocations "trample on the efforts by the international community" and dubbed the latest launch a "challenge to the world".