North Korean leader Kim Jong-un celebrated the country's largest nuclear test with a huge banquet for his nuclear scientists and technicians, the regime's news agency announced on Sunday (10 September).
Photos taken at the event show Kim walking alongside two of North Korea's most prominent scientists: Ri Hong-sop, head of North Korea's nuclear weapons institute, and Hong Sung-mu, deputy director of the munitions industry department.
Kim's wife, Ri Sol-ju, was also pictured at the celebration, sitting alongside the North Korean leader. The first lady has rarely been seen in public in recent years. In 2016, she did not make a public appearance for more than seven months, prompting speculation that she fallen out of favour.
After disappearing for almost nine months, she attended an air combat training session with her husband.
In 2017, she has been seen in public several times, including most recently in July at an event in Pyongyang to celebrate the country's successful test launch of an intercontinental ballistic missile (ICBM).
The life of the first lady is shrouded in mystery, with multiple rumours regarding her age, her past and her long periods of absence from the public eye. Even her real name is open to debate.
While some say Ri hails from a family that numbers among the Communist elite, others say she was born to an average family. Estimates of her age range between 29 and 32. After attending school in the country's capital, Pyongyang, Ri is said to have studied music, specifically singing, in China, according to the New York Post. There are also conflicting reports she may have been a professional singer and a member of the pop group in North Korea.
The couple were first pictured together in 2012 and shortly afterwards an official statement confirmed their marriage.
Ri has since become a fashion trendsetter for young women in the isolated Stalinist state, known for her taste in luxury brands but controversy when she was photographed with a $1,600 Christian Dior handbag – which cost about 16 times the average monthly wage of a North Korean worker.
Reports say the couple have three children - the latest having been born in August.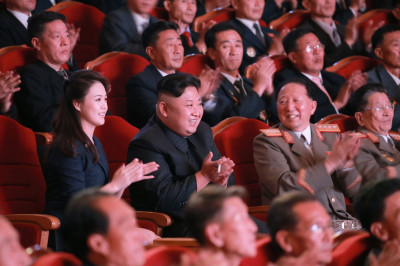 Kim's recent lavish banquet and arts performance celebrated the scientists and top military officials who contributed to the latest test, which Pyongyang claims was an advanced hydrogen bomb.
Meanwhile, news of the "hydrogen bomb" celebration comes as the UN Secretary General, Antonio Guterres, warned in an interview that North Korea's nuclear and missile programme was the world's "most serious crisis in years."
Guterres told French newspaper Le Journal du Dimanche that he was "very worried" about Pyongyang's nuclear threat.
"To date, we have had wars which have been initiated after a well thought-out decision," he said. "But we also know that other conflicts have started through an escalation caused by sleepwalking. We have to hope that the seriousness of this threat puts us on the path of reason before it is too late."
The US has called for tougher sanctions against North Korea in a draft resolution presented to the UN Security Council. The resolution calls for an oil embargo on the country, freezing Kim's assets and ending payments of North Korean guest workers.
Japan has suggested blocking North Korea's fuel supplies.
"If we put firm pressure on North Korea such that it realises it cannot develop missiles, it will accept dialogue and we can progress with diplomatic efforts," Japanese defence minister Itsunori Onodera told broadcaster NHK. "Unless we firmly apply pressure, North Korea will not change its direction."