North Korea celebrated its "successful" sixth and the most powerful nuclear test in a big way in Pyongyang on Wednesday (6 September), but the country's supreme leader Kim Jong-un was reportedly absent.
Hundreds of North Koreans lined the streets of the capital as the scientists and workers involved in the test of a hydrogen bomb designed to be mounted on its newly developed intercontinental ballistic missile (ICBM) arrived back in the city.
The technicians received a hero's welcome as fireworks and a mass rally marked the celebrations. Footage broadcast on the state-run KRT television showed residents waving flowers and red flags as they turned out to cheer and greet a convoy of buses carrying the scientists and technicians.
Tens of thousands of Pyongyang residents also gathered at the Kim Il-Sung Square to praise the achievements of the scientists.
The scientists and workers – all dressed in military garb – waved back at the people giving them a rousing reception.
The team, led by Ri Hong Sop, head of North Korea's Nuclear Weapons Institute, and Hong Sung Mu, deputy director of the ruling Workers' Party of Korea's munitions industry department, joined the gathering.
However, it was Kim's absence that stood out. It is not known why the leader stayed away.
North Korea's military "will put an end to the destiny of the gangster-like US imperialists through the most merciless and strongest preemptive strikes if they and the hordes of traitors finally ignite a war," speakers at the rally said, according to KCNA.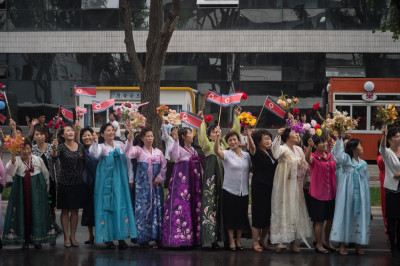 The isolated country claimed it successfully tested an advanced hydrogen bomb on 3 September, which triggered a 6.3 magnitude earthquake.
This test was believed to be 10 times more powerful than the country's last test in September 2016, raising the stakes a bit in its nuclear stand-off with the US.
As tensions simmer in the Korean peninsula between the two countries, the administration of US President Donald Trump is reported to be preparing to freeze Kim's assets to put pressure on his reclusive regime to stop its nuclear and missile programmes.
The US is also thought to be proposing a travel ban on Kim. A resolution to this effect, which is said to be already drafted, will be presented to the UN Security Council for ratification and a vote is expected on 11 September.