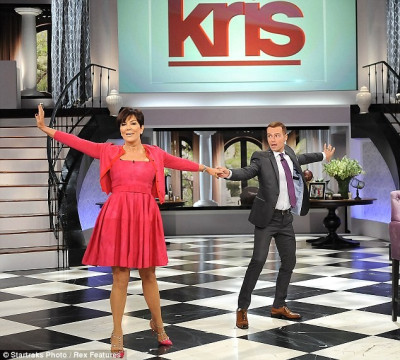 Kim Kardashian plots her first post-baby public appearance ahead of Sister Kylie Jenner's Sweet 16. She's remained in hiding since welcoming daughter North in June. The reality star is said to be discussing making a carefully choreographed appearance on her mother Kris Jenner's new talk show, Kris.
But after nearly a month in seclusion the new mother is apparently keen to attend her sister Kylie Jenner's Sweet 16 party on August 17.But in order to avoid overshadowing the teen she is plotting on making her public debut a few days prior, according to new reports.
This would have the double advantage of pushing up ratings for the show, while giving the family complete editorial control.
'Believe it or not, it's not all about Kim,' a source told the New York Daily News.
'She really wants to go to Kylie's party, and when it comes to the family, Kris wants everyone there. Kim is just working with Kris to figure out the best plan of action.'
So far Kim's sisters have tweeted vociferously to encourage fans to watch the family matriach's show, while Khloe has even co-hosted an episode.
She is said to be planning to use the show as a platform for Kim's first post-baby interview
But stage-managing Kim's first appearance would be a guaranteed winner for Kris, who as Kim's manager surely has every hope of securing the sought after guest.
But fans hoping for a peek at the newborn North West will be disappointed.
'Kris won't ask anything that Kim can't make money off of in the future,' the source said. 'They'll keep it light and just talk diet and exercise. No baby photo will be shown.'
It is a win win for both mother and daughter. Kim won't be faced with a ton of gruelling questions like she would if she went on another show and Kris will get amazing ratings. The two are reportedly working on a plan of action now that will benefit both of them publicly and personally.
Since Kim has been in hiding, there has been speculation about when she will return to the life she had before giving birth. It seems that will be answered soon enough but will she really be the fame-whore she was before her baby? I think so because if she isn't she will fade away. Sure she could ride Kanye West's coattails but lets real how long is that going to last. Kim likes to be center of attention.
Jonathan Cheban has been one of the few people to be by Kim Kardashian's side since the birth of baby North West. Now, the TV personality has revealed what's in been like hanging out with the new mother and her six-week-old daughter, which he has described as looking 'delicious'. Speaking at the QVC Super Saturday event in the Hamptons, Jonathan gushed to Extra about baby North, saying: 'She's gorgeous, she's amazing.'
He also revealed that Kim has taken to motherhood like a duck to water, saying: 'Every time I'm on the phone with her, she's with the baby. She's always feeding her or playing with her... she really took it and ran with it.'
Adding: 'She's a great, great mom.'
What do you think about Kim's noble attempt to come out for a public appearance without totally ruining Kylie's special birthday?
Read more:http://au.ibtimes.com/articles/494762/20130726/kim-kardashian-post-baby-weight-loss.htm#.UfdHjNJHJL4
http://au.ibtimes.com/articles/495207/20130729/kim-kardashian-loves-breastfeed-daughter-proved-wonderful.htm
http://au.ibtimes.com/articles/495202/20130729/kim-kardashian-kanye-s-baby-named-north.htm