In the space of just three months, a smartphone game by reality star Kim Kardashian-West has raked in over $43 million (£27m) with almost 23 million people having installed the Hollywood game.
In June, the reality star announced a partnership with San Francisco-based Glu Mobile and released Kim Kardashian: Hollywood, a free game for iPhone and iPad devices that allows players to pretend to be the star for the day and travel around Hollywood.
The game is free to download and play, but following the highly successful freemium model, Kim Kardashian: Hollywood makes money from in-app purchases with some individual items costings hundreds of dollars.
According to Glu Mobile's most recent financial results, the game has earned $43.3m in the three months to the end of September, which is more than 10 other Glu Mobile owned games combined.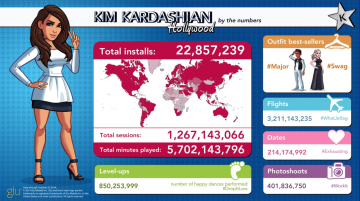 The huge figures are not unexpected however, with the game earning $1.6m in the first five days after it was released, though they do fall some way short of the $200m Kardashian-West herself claimed the game would earn by the end of 2014.
Details about revenue sharing from the app are not known, with Glu Mobile simply saying that Kardashian-West receives royalties from the game.
Glu Mobile has also released some other figures about the game, revealing that it has been played for a total of over 5.7 billion minutes with over 1.2 billion sessions being logged in the three month period.
The huge hype surrounding the game is expected to tail off somewhat in the current quarter with Glu Mobile predicting revenue of $60m in total, down from $83m in the past quarter.
However to offset some of the loss of interest in the game, the company is planning to release localised versions of the game to increase the global interest in the game. The main game will also continue to be updated to reflect Kardashian-West's real life activities.