It will be celebrations all round in the Yeezus household as Kim Kardashian and Kanye West mark their second wedding anniversary on 24 May. Rarely a dull moment in the Kimye universe, the last 12 months have been anything but ordinary with the couple expanding their family, and embarking on the trip of a lifetime among other notable moments.
The power couple tied the knot in Florence, Italy on 24 May 2014 and have been blissfully loved-up ever since. Despite rumours of trouble in paradise over West's impromptu Twitter rants, he and the Keeping Up With The Kardashians star appear to be stronger than ever. In celebration of their second wedding anniversary, IBTimes UK looks back at their biggest moments of the past year.
A Saint is born
Little North gained a baby brother on 5 December 2015 when Kardashian, 35, gave birth to son Saint. Kept behind closed doors for almost three months, the couple shared the tot's first picture on Kardashian's website. In the accompanying message, Kardashian wrote: "Today is my dad's birthday. I know there's nothing more in the world he would have wanted than to meet his grandchildren. So I wanted to share this pic of Saint with you all."
In an April KUWTK episode, Kardashian revealed that her rapper husband was keen to try for a third baby. She also addressed the subject on her app, saying: "My husband might be trying for a third child, but I am not. So I don't know. Maybe that's kind of true? Maybe not really true. If it happened, it happened."
However, when pressed by Ellen DeGeneres on the subject on May 19, West simply replied: "Maybe. Let's see what happens." We predict that Legend West is in the making!
Home sweet home
Not the ideal situation for newlyweds and a new family, Kimye has lived at the home of Kardashian's mother Kris Jenner for around three years. In 2013, they purchased a Bel Air mansion for $11m but decided to put it on the market once renovations were complete. In the meantime, they had bought a sprawling property in Hidden Hills, California, for a cool $20m but were forced back to Jenner's house when work on the second property went unfinished.
With a new baby and everything getting too cramped at momma Jenner's, Kimye finally decided to get some breathing space and moved into their Bel Air property in March while renovations continued on their Hidden Hills home.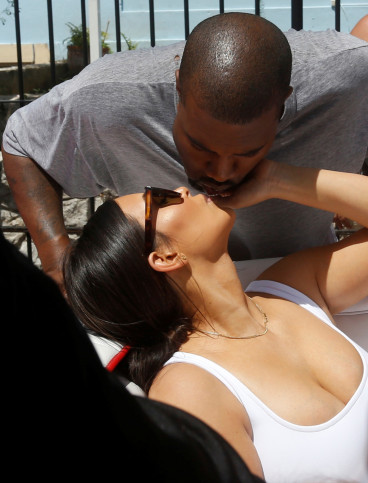 Hello, Cuba!
Like Beyonce and Jay Z before them, the Wests have become some of the first celebrities to visit Cuba since the US travel embargo was eased by President Barack Obama. In May 2016, the family along with Kardashian's older sister Kourtney – with children Mason, Penelope and Reign – and younger sibling Khloe, took in the sights and culture of the Caribbean island. Reports soon said the group were keen to jet back to the US towards the end of their trip due to frustration with lack of phone signal and technology. Of course, this was denied and the Kardashians gushed about their holiday on social media.
Power to the people
Much to the delight of Yeezy's ego, Kardashian and West were named in Time magazine's list of the 30 most influential people on the Internet. With the reality-star femme coining the term 'break the internet' and West keeping everyone entertained with his 140-character rants, the accolade hasn't come as much of a surprise to the rest of us.