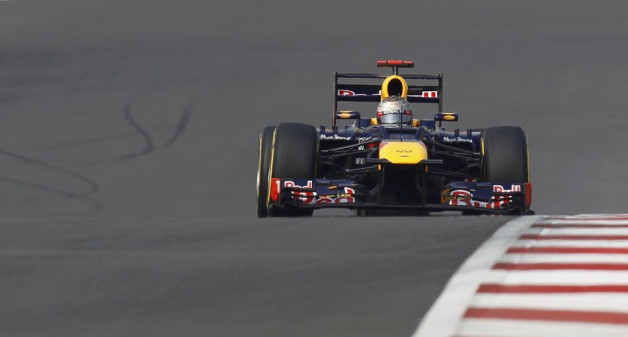 Lotus' Kimi Raikkonen won a pulsating Abu Dhabi Grand Prix, with Fernando Alonso of Ferrari taking second and Sebastian Vettel of Red Bull finishing third in a remarkable performance, after starting the race from the pit lane.
The win marks Raikkonen's first triumph after his return to Formula One after a two-year break. It is also the Finn's first victory since the 2009 Belgian GP. Team Lotus made its first appearance on the top of the podium, since F1 legend Ayrton Senna's victory in the 1987 USA GP.
Meanwhile, Vettel, looking to become the youngest ever triple champion in F1 history, now leads the drivers' championship standings by 10 points from Alonso, with just two races remaining in the season. Red Bull were unable to seal the constructors' title, after Mark Webber went out of the race following a collision involving Lotus' Romain Grosjean and Sauber's Sergio Perez.
McLaren's Lewis Hamilton, who took pole position in Saturday's qualifying session, was in front and well in control till lap 20, when his car lost all power and came to a halt on the track.
McLaren's Jenson Button and Williams' Pastor Maldonado took fourth and fifth spot, while Sauber's Kamui Kobayashi finished sixth. Ferrari's Felipe Massa, Williams' Bruno Senna, Force India's Paul di Resta and Toro Rosso's Daniel Ricciardo completed the top 10. For full results, click here.
Earlier, in the qualifiers, Hamilton was the quickest and he was joined in the front row by Webber, who finished second. Vettel, who qualified third, did not have enough fuel in his car for a sample to be taken and, as a result, was sent to the back of the grid. The German stopped his car out on the track on his way back to the pits at the end of the qualifying session, like Hamilton did in Spain in May.
F1 rules require the car to return to the pits with at least one litre of fuel in the tank because running on less fuel gives a performance advantage.