Red Bull owner Dietrich Mateschitz has revealed Lotus' Kimi Raikkonen is among the contenders to replace Mark Webber for the 2014 Formula 1 season.
The Australian is out of contract at the end of the current season and after seeing team-mate Sebastian Vettel controversially overtake him during the Malaysian Grand Prix, rumours are rife that the 36 year old could leave the constructors champions in the off-season.
Both Vettel and Webber are said to have settled their differences ahead of the Chinese Grand Prix next weekend, however Mateschitz admitted the Fin, winner of the season opener in Australia, is a candidate join Red Bull.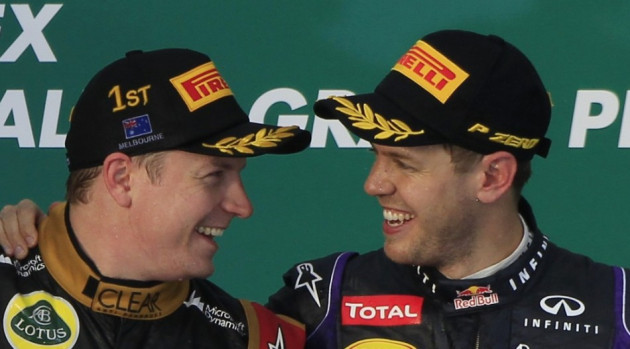 "Mark is definitely a candidate for 2014," Mateschitz told Speedweek. "Whether he retires he must decide, but with us he is always welcome.
"Just as a quick junior such as [Jean-Eric] Vergne or [Daniel] Ricciardo from Toro Rosso would be. Sorry, that is a diplomatic answer which leaves everything open, but that's how it is. Everything else is pure speculation."
"Kimi is cool and fast and always a candidate," he added.
Raikkonen, the 2007 world drivers' champion, abandoned the sport in 2009 after being bought out of his contract two years later by Ferrari to make way for Fernando Alonso.
After a spell racing in the World Rally Championship, the 33 year old returned to F1 in 2012, claiming his first win since his comeback in Abu Dhabi, and thus Lotus F1's first victory since their return to the sport.
Red Bull team principal Christian Horner said before the start of the season: "He is as fast as he was before his break.
"He looks hungry and as though he wants a championship. Talking about Mark is a long way off and we don't know what he wants to do yet."
Raikkonen has previously suggested he would be open to moving to McLaren or back to Ferrari should the opportunity present itself, however with Webber likely to take his leave at the end of the year, amid infighting within the Red Bull team, Horner and co are likely to be looking for a team-mate for Vettel.
Such is the progress made at Lotus that Raikkonen will have half an eye on sustaining a challenge for the world title in 2013, but should he move to Red Bull alongside Vettel, he would no longer be considered the No.1 driver.