Guy Ritchie's King Arthur: Legend of the Sword has cemented itself as a box-office bomb, having made a worldwide total of $43.8m (£33.8m) during its opening weekend in US and international cinemas. Starring Charlie Hunnam in the titular role, Warner Bros had intended to follow-up the film with five sequels, but having cost the studio a hefty $175 million (£135m) to make, movie insiders are reportedly predicting a loss of around $130m for the instalment, rendering further outings in the franchise unlikely.
King Arthur grossed $14.79m (£11.4m) from 3,702 cinemas, according to studio estimates. Marvel sequel Guardians of the Galaxy Vol 2 held on to its top spot in the box-office ranking with $63m, while Amy Schumer and Goldie Hawn's raunchy comedy Snatched debuted in second place with $17.5m. Snatched's budget was $42m, more than four times smaller than King Arthur's.
Having had past success with his Sherlock Holmes outings on the big screen starring Jude Law – who also appears in King Arthur – and Robert Downey Jr, Ritchie is no stranger to breathing new life into well-known characters.
However, a Hollywood source told The Sun that they believe that "the King Arthur franchise is dead and "these figures [were] a total disaster for Warner and Guy Ritchie" which is why the new movie is "one of the biggest film flops in recent memory".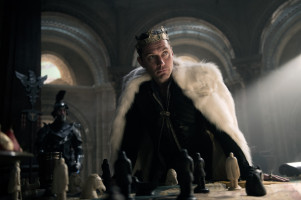 Warner Bros executive Jeff Goldstein addressed King Arthur's financial shortfalls, saying: "The concept didn't resonate with a broad audience, and we're disappointed. We had higher hopes."
The film currently has a 26% rating on Rotten Tomatoes, with critics describing it as "a brutal, bleedin' mess" and "joyless".
Ritchie's The Man From U.N.C.L.E, which was released in 2015 and based on the 1960's television series of the same name, similarly failed to impress at the box-office making $109.8m off of a $75m budget.
If recycled characters aren't necessarily working for Ritchie right now, let's hope he can buck that trend with his upcoming live-action remake of Disney's Aladdin, which is currently screen-testing actors in preparation to start shooting later this summer.
Also starring Astrid Bergès-Frisbey, Djimon Hounsou, Eric Bana and a glorified cameo from David Beckham, King Arthur: Legend of the Sword was released in the US on 12 May. It opens in the UK on 19 May, with previews showing in select cinemas on the 17 and 18.