King Robbo, the influential graffiti artist famous for his rivalry with Banksy, has died aged 45 after spending the last three years in a coma.
The artist was placed in a medically induced coma in 2011 after suffering a serious head injury.
His supporters, collectively known as Team Robbo, confirmed his death due to "health complications" via his official website.
"Peace and respect to Robbo's close family and friends.. the Crew of Team Robbo and WRH [We Rock Hard] and all his many fans and supporters around the world," the statement said.
"Team Robbo – All the way – Robbo changed the art world...forever!"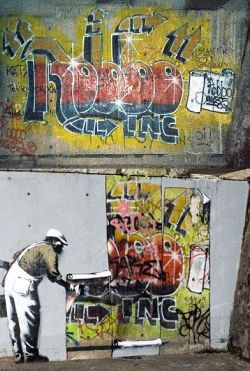 After starting out spray-painting trains and tube carriages in the 1980s, King Robbo credited with helping to popularise the London graffiti scene by helping it drift away from US-influences and was described as "one of the most important figures in counter-cultural art" in a Channel 4 documentary.
His name became known in mainstream circles following his feud with renowned fellow graffiti artist, Banksy.
In 1985, King Robbo painted a mural under a bridge in Regent's Canal in Camden, north London, on a wall only accessible by crossing the water on a boat. For more than 20 years, the piece remained, albeit with a few more tags covering a large percentage of it.
It eventually became the oldest piece of graffiti in London, several years after the rest of King Robbo's pieces were long since scrubbed off the trains and carriages.
The piece remained until 2009, when it was partially covered by a Banksy stencil of a workman plastering up the wall.
That sparked off what was to become the famous "graffiti war" between the pair, with each one vandalising the other's graffiti during the two-year long dispute.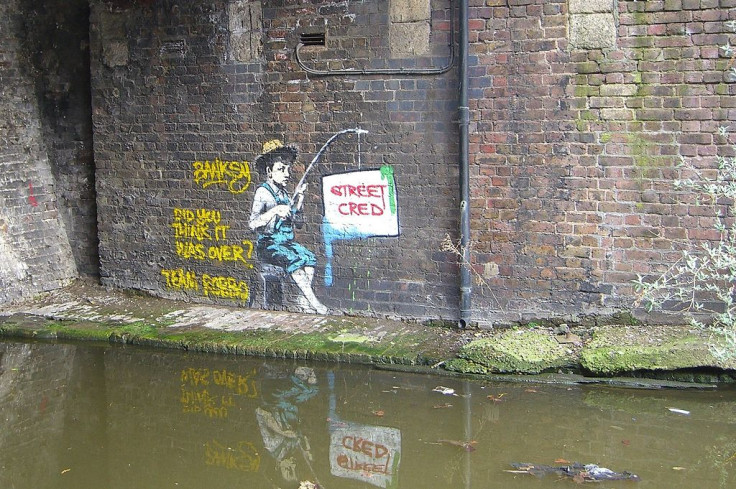 According to folklore, the hostility between the two began in the 90s after they were introduced to each other in a Bristol pub.
In media interviews, King Robbo claimed he gave Banksy a "swift backhand" after the then unknown artist said he had never heard of him.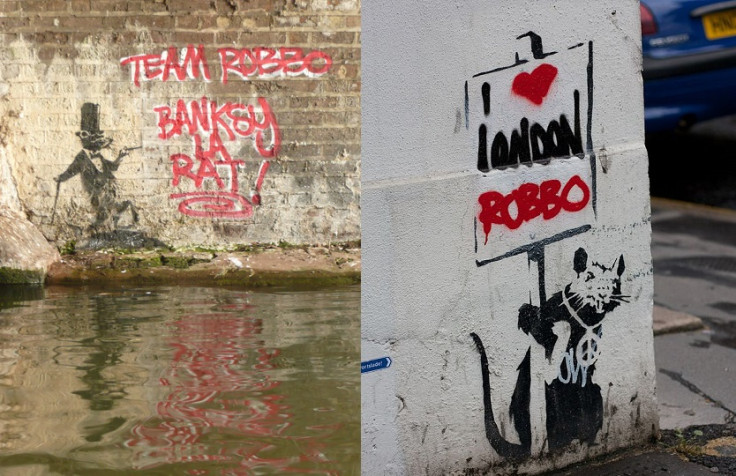 The fall-out between the pair gathered so much attention, Channel 4 produced a documentary entitled Graffiti Wars, which contained several on screen interviews with a masked King Robbo first broadcast in August 2011
Banksy objected to the programme, claiming it suggested he was responsible for the head injury which put King Robbo in a coma.
He told the Observer at the time: "Graffiti Wars contained some inaccuracies that I've asked to be investigated and some facts that need to be corrected.
'They alleged I painted over a piece by Robbo and led viewers to believe I had something to do with him being in a coma.
"I wish Robbo a full and speedy recovery.'
A spokesman for Channel 4 denied the claims.
Following King Robbo's death, a message on Banksy's official website simply read: "Robbo WRH WD PFB – RIP."
Coincidently, Banksy's GCHQ mural 'Spy Booth' in Cheltenham was been defaced with grey and silver paint around the same time as King Robbo's death was announced.